Vital railway branch under repair in Holguin
Submitted by: admin

05 / 19 / 2007
---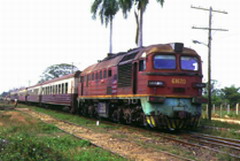 Repair work on the railway branch linking Herrera ad Felton towns in Holguin province will soon start and it is due in three years. However, early constructive works will make it transitable again in just a few months.

Recovery of this railroad stretch will again bind Holguin northeastern branches to the Central Railroad. The system, including a stretch for the Nicaro Comandante Rene Ramos Latour Nickel Company, will ensure the racking of an important raw material for the cement national industry, the iron-rich by-product glue. It will also allow for the transportation of coke coal to the Acinox Las Tunas Industry and several other heavy cargos.

Indeed, the need to support the increasing need for cement to achieve the several investment plans being carried out in Cuba −especially those of the Battle of Ideas program− fosters this plan.

Works will be carried out by the Rene Martinez Tamayo contingent, belonging to the number nine Building Enterprises of the Ministry of Construction. The company will be in charge of the repair of the 40-kilometer branch, and it will firstly undertake the works on three bridges of the road, currently in a critical condition.

The Mayari Bridge, over 150 meters long, is yet on the project phase but its repair is thought to cost about 16 000 Euros.

Previous works included the improvement of 12 kilometers in nearby railroads.
Source: Al Dia.cu

---
Related News
---