Vilma Espin, a woman committed to Cuba and its Revolution
Submitted by: admin

06 / 20 / 2007
---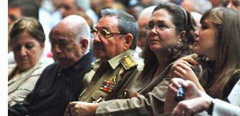 During a solemn ceremony held at Havanas Karl Marx Theater to pay tribute to the Cuban heroine who passed away Monday in Havana, Machado Ventura expressed his deepest regrets to Cubas First Vice President Raul Castro and his children Deborita, Mariela, Nilsita and Alejandro, his grandchildren and other relatives.

Machado Ventura said that people can speak of Vilma in the past, but above all in the present and future due to her outstanding lifes work.

With deep grief, respect and love, the Cuban people paid tribute throughout the island to one of the most notable veterans of the Cuban Revolution, said Machado. He noted that Vilma was always keen for knowledge and culture and that she loved ballet and singing.

In the presence of other Communist Party and government leaders and representatives of grassroots organizations, the vice-president of the Cuban Council of State recalled that for Vilma the triumph of the Cuban Revolution in 1959 meant the beginning of a much longer battle: the struggle for womens equality.

The rights which Cuban women now enjoy have their basis in the essence of the Revolution and in the permanent struggle of Vilma aimed at achieving them step by step, said Machado Ventura.

Asela de los Santos, a lifetime friend of Vilma, spoke to the audience during the ceremony about the humanism always practiced by Vilma, who was the founder of the Cuban Womens Federation. She was a lover of culture and sports; she had a beautiful soprano voice and she loved traditional Cuban music and the carnival of Santiago de Cuba. At the same time she had a deep sense of justice, said de los Santos.

We all should look back at her work and encourage new Cuban generations to study it, because her struggle and her legacy are at the very heart of human values, said the close friend and comrade of Vilma Espin.

The solemn ceremony was attended by Cuban Vice President Raul Castro, his and Vilmas children Mariela, Deborah, Nilsa and Alejandro, as well as leaders of the Cuban Communist Party, the Young Communist League, the Cuban Womens Federation, and other representatives of grassroots organizations.
Source: AIN
---
Related News
---