Vigil to protest the release of confessed assassin Luis Posada Carriles
Submitted by: admin

04 / 20 / 2007
---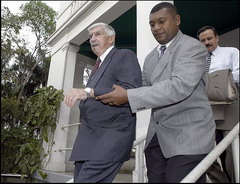 The families of the victims of the bombing of a Cubana Airliner in 1973 and university students, began on Friday a vigil to "alert the world" on the danger in releasing terrorist Luis Posada Carriles in the US.
The vigil which began at 8am Friday and will run until Saturday 6pm is taking place at Havana's Jose Marti Tribunal.
"This vigil that began this morning is to alert the world of the Bush administration responsibility in the release and protection of terrorist Luis Posada Carriles", said a statement that was read at the Jose Marti Tribunal Thursday during an activity condemning the decision in freeing the confessed criminal.
The participants demanded the return of "the terrorist to prison and the extradition of Posada to Venezuela."
Posada Carriles was released on Thursday in El Paso, Texas after almost two years in detention for immigration problems in the US after illegally entering the country. He was accused of fraud and is scheduled to appear before court on May 11th.
Posada Carriles escaped from a Venezuelan jail in 1985 after being accused of his participation in the bombing of a Cubana airliner in 1976 killing all 73 people on board.
Other activities condemning Posada Carriles' release was held in other parts of the country.
Source: RadioHC
---
Related News
---