Vietnamese government halts rice export
Submitted by: admin

11 / 13 / 2006
---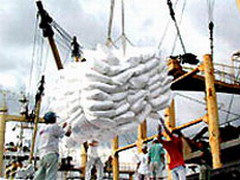 The Vietnamese government Sunday called a halt to rice export to ensure national food security, according to Vietnam News Agency.
Prime Minister Nguyen Tan Dung required relevant ministries, the Vietnam Food Association and chairpersons of People's Committees of cities and provinces nationwide to cease rice export, excluding contracts already signed with Cuba and Indonesia under the Vietnamese government's policy and cargo ships already docked at Vietnamese ports before Sunday. All other cases of rice shipment must get his approval.
The government decision is to ensure food security and stabilize prices of food on the domestic market, since frequent occurrence of natural disasters and continuous attack of pests and diseases in recent months have lowered Vietnam's rice output, and increased prices of the food staple.
The prime minister asked the Finance Ministry to organize the sale of national reserved food to help stabilize the prices, and the Ministry of Agriculture and Rural Development and the People's Committees to instruct the fight against pests and diseases.
Vietnam, the world's second biggest rice exporter, exported nearly 4.4 million tons of rice worth roughly 1.2 billion U.S. dollars in the first 10 months of this year, posting year-on-year declines of 9.5 percent and 7.8 percent, respectively, according to the country's General Statistics Office.
Vietnam, which exported more than 5.2 million tons of rice worth nearly 1.4 billion dollars in 2005, set a target, early this year, of producing 38-39 million tons of paddy rice and selling overseas 5 million tons of rice at most in 2006.
Source: Xinhua
---
Related News
---