Venezuela-Cuba undersea cable to favor Caribbean Countries
Submitted by: admin

06 / 01 / 2007
---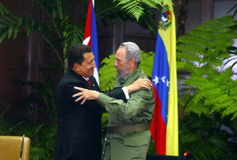 State-run TELECOM Venezuela and Cuban enterprise Transbit to constitute a joint venture for the construction of the undersea fiber-optic cable that will favor communications among Caribbean nations, announced Julio Duran, president of the aforementioned Venezuelan company.
Duran highlighted that this enterprise would contribute to strengthen the regional integration boosted by President Hugo Chavez and added that this would be the first undersea cable of the Caribbean and that its capacity would be ten times bigger than that of the regions existing cables.
He explained the cable would boast two bifurcations, one close Cuba and the other one close to Venezuela that would allow interconnections with other Caribbean and Latin American countries, which would thus be able to access cheaper telecommunications services than those currently offered by private operators.
Duran ratified that the 1,552 kilometer long cable would carry over 20 million simultaneous phone calls, would be able to transmit up to 26 000 television channels and would provide Internet bandwidth access.
The connection will start from La Guaira, in northern Venezuela and will enter the largest Antillean island through Siboney Beach, in the eastern Santiago de Cuba province.
Source: CubaSi
---
Related News
---