US probes Michael Moore for Cuba health trip
Submitted by: admin

05 / 10 / 2007
---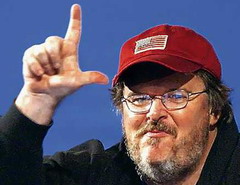 The US government is investigating controversial filmmaker Michael Moore for taking some victims of the September 11 terror attacks to Cuba for medical treatment in a key scene of his new documentary, it emerged Thursday.
Investigative website The Smoking Gun posted a letter from the US Treasury Department to the Academy-Award-winning documentarian notifying him that it was conducting a civil investigation for possible violations of the US trade embargo restricting travel to Cuba.
Moore's movies like Bowling for Columbine and Fahrenheit 9/11 have made him one of the most outspoken critics of US President George W Bush and other politicians.
The new investigation looks sure to bump up publicity for his new project Sicko, which examines the US health-care industry. The movie premieres May 19 at the Cannes Film Festival and debuts in US theatres June 29.
The segment under investigation involves Moore's trip in March to Cuba together with 10 ailing workers from the Ground Zero rescue effort who allegedly were deprived of proper treatment in the US.
Moore's previous film Fahrenheit 9/11 was a critical examination of Bush's role in, and reaction to, the terror attacks in 2001. It earned more than 100 million dollars at the box office to become the most successful documentary in history. His earlier film Bowling for Columbine exposed the US culture of violence and won the 2002 Oscar for best documentary.
The treasury letter demands that Moore provide evidence that he had permission to travel to Cuba or that he went as a regularly employed journalist, and to provide receipts for his transport and expenses on the ground.
---
Related News
---