US lawmakers promote agriculture in Cuba
Submitted by: admin

12 / 19 / 2006
---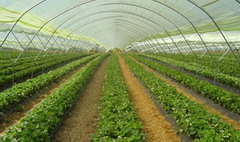 U.S. Reps. Jerry Moran and Jo Ann Emerson, back from a weekend visit to Cuba, said the U.S. government should ease travel restrictions and expand agricultural trade with the communist nation.
"It's become clear to me that personal freedom follows economic opportunity," Moran said Monday. "The larger trading relationship we have, the higher standard of living that Cuban people have, the more demands they will make upon their government for change."
Moran, R-Kan., and Emerson, R-Mo., were part of a 10-member bipartisan congressional delegation that visited Cuba, the largest group of lawmakers to travel there since the U.S. trade embargo began more than 40 years ago.
The lawmakers are trying to gain a better understanding of the political situation in Cuba given the uncertainly surrounding Fidel Castro's health. They are also looking for ways to boost U.S. agricultural exports to the communist nation, which would benefit Midwestern farmers.
"Every single person with whom we met said they want to have negotiations to start building dialogue and communication between them and Washington, which is a different tone than they've taken in the past," Emerson said.
The Bush administration has said it will not open talks with Cuba until it becomes a Democracy. While Moran said he's not a defender of Castro's regime, he asserts U.S. policy is misguided.
"There's a growing recognition that what we're doing is not working," Moran said.
Castro's medical condition has been kept under wraps since he underwent surgery for intestinal bleeding in July and temporarily ceded power to his younger brother Raul Castro. He has not been seen publicly since July 26.
Cuban officials tried to convince the lawmakers that Castro will return to power, but Moran said he suspects that is not true.
"My guess is sooner rather than later that Fidel Castro is no longer going to be the leader of Cuba," Moran said. "That gives us an opportunity to try to increase our relationship and develop an influence over the future Cuban government."
The delegation was not allowed to meet with Raul Castro. Emerson speculated the Cuban government did not want to signal that Fidel is no longer in power.
The group arrived in Havana on Friday and met with Foreign Minister Felipe Perez Roque, Parliament Speaker Ricardo Alarcon and Basic Industries Minister Yadira Garcia.
Moran and Emerson have long supported easing the trade embargo on Cuba. Moran backed a law passed by Congress in 2000 that allowed for the export of agricultural products, food and medicine to Cuba for the first time since the embargo began. Cuba purchased about $1.4 billion worth of agricultural commodities from U.S farmers from 2001 to 2005.
But the Bush administration last year imposed new restrictions that require Cuba to pay for goods before they leave U.S. ports. That change frustrated Cubans and caused trade to drop again. Moran and Emerson have tried unsuccessfully to stop the U.S. Treasury Department from enforcing the new rule.
Emerson said she is confident U.S. farmers will continue to be able to sell their products to Cuba, but she wants to end the new Treasury Department regulations, "so we can be on a level playing field price-wise for our products."
---
Related News
---