UNE Art Gallery presents 'Cuba Hearts and Minds Past and Present' May 21 - July 22
Submitted by: admin

05 / 02 / 2007
---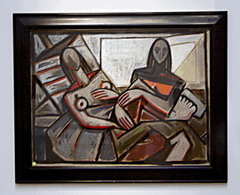 The University of New England's Art Gallery presents "Cuba Hearts and Minds Past and Present" on display from May 21 - July 22, 2007 on the Westbrook College Campus in Portland. The opening reception is Tuesday, May 22, 5:00 - 7:00 p.m. preceded by a "Conversation with the Artists" from 3:00 - 4:30 p.m. The exhibition and reception are free and open to the public.
Cuba is an island that awakens all manner of ardent passions with the very mention of the word. Its cultural gifts are legion, a rich legacy of music and dance, and most especially the visual arts - film, paintings, photography, prints, mixed media and sculpture.

Perhaps it is the size of this country in the Caribbean, well over 1,000 miles long. Or its history as a playground for American gangsters and people of privilege alike. Maybe it is the rich mixture of races among its citizens, Africans, Spaniards and Chinese predominantly. Or the legacy of Castro, the Communist populist who has ruled Cuba and aroused such strong feelings in our own country so nearby for so long.

This exhibition will explore this extraordinary island through many of its contemporary artists, including works by Sandra Ramos, Arturo Montoto, Wilfredo Lam, Jose Bedia, Blanca Acelia Escalante, Osvaldo Salas, Eduardo Casada, Kcho, Augustin Bejerano, Miguel Lobainas and Joel Jover.

Cubas palate of colors, its landscapes, animals, people and politics are portrayed in many mediums. In addition, North American artists work will be featured as well. One notable work is a nine foot long ceramic tile entitled "The History of the Bay of Pigs" by Joan Gardner of Middleburg, Va. Other artists include Virginia Valdes, Marta Morse, Barbara Goodbody and Karen Dietrich.
---
Related News
---