Ulises Hernandez: "Giving Everything for the Spectator"
Submitted by: admin

11 / 30 / 2006
---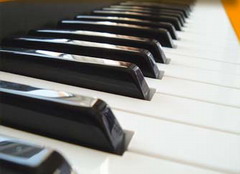 The pianist, composer and cultural promoter Ulises Hernandez is a creator capable of getting involved in several projects simultaneously and putting into them all the necessary passion so that the public enjoys them. In his own words, "exactly today I accept a challenge, which can be to play Mozarts Sonata, to write the music of a film, to present my students in a concert or to accompany a singer and... I just get complicated. Sometimes I think time is not enough... I dont want to keep anything for me".
He has recorded several discs and offered concerts in wards of Europe and America. In 1984, after his performance in the Theater La Fenice, he received the Distinction of the Commune of Venice and in year 1999 the Order for the National Culture of the Cuban Republic. Since 1987 he has reached an outstanding in the creation of scores for theater and cinema. The films Miradas (Looks), Sed (Thirst) y Pon tu pensamiento en mi (think of me) have won national and international prizes. Nowadays he is professor of the Piano Department of the Higher Art Institute of Havana.
After his recent nomination to Lucas Awards 2006 in the category Video instrumental music with The Silly Age, a film directed by Pavel Giroud, this man of transparent look and noticeable simplicity agreed to tell part of his rich artistic trajectory to the readers of the digital website Cubasí.
Encounter of Ulises with The Silly Age
"I have been working in cinema for many years already (1986-87) and Pavel Giroud is really a young producer, that is, theres a sort of generational controversy but luckily in the last years I have been close to the works he has done.
When he as director and Arturo Infante as scriptwriter agreed on what was going to be The Silly Age from the point of view of the epoch, Pavel asked for my help in the musical theme. Of course for me that was not very good news because it was like writing forcibly to make music that responds to a time plus the idea of a protagonist being a pianist I was very excited the idea of making music for the film. The Piano, which is my instrument, was going to have a leading role. Then the good communication with Pavel and the attractiveness of the script for me as a composer was what moved me close to the film "
Source: Cubasi
---
Related News
---