Tropical storm 'Barry' forms in Gulf
Submitted by: admin

06 / 02 / 2007
---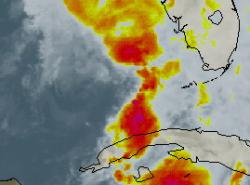 With exquisite " if worrisome " timing, Tropical Storm Barry developed Friday right over South Florida and only 17 hours into the hurricane season.
"Well, we knew the tropics were active," Bill Proenza said on the first day of his first season as director of the National Hurricane Center in West Miami-Dade County.
Forecasters said Barry was unlikely to pose a major threat, but they issued precautionary warnings and watches for much of Floridas Gulf Coast. Barry could bring some much-needed rain to southeastern South Carolina early next week.
Generally, nothing good comes from a named storm, but at least Barrys rain moistened the drought-stricken state Friday. All of South Florida was likely to receive at least two to three inches before Barry departs Sunday.
Barrys center was located in the Gulf of Mexico, but that was largely a technicality. Nearly all of its rain and wind was offset to the east " and directly over Florida.
"It will mostly be beneficial," said Robert Molleda, the National Weather Services severe weather expert for South Florida. "But you never know with tropical weather, so you have to be careful."
He warned South Floridians that heavy downpours could flood some roads and poor drainage areas. Sustained winds could reach 20 to 25 mph across coastal regions, and scattered thunderstorms could produce even higher gusts inland.
"We all have been praying for rain and were finally getting it," Miami-Dade Mayor Carlos Alvarez said during a previously scheduled " but also, as it turned out, well-timed " news conference intended to urge residents to prepare for the hurricane season.
As Barry evolved, it posed a difficult challenge for hurricane forecasters. They spent much of Friday afternoon debating whether to call it a tropical storm or a subtropical storm.
A subtropical storm is a meteorological hybrid that produces winds of at least 39 mph but lacks an intense central core and the circular shape of a tropical storm or hurricane.
"The big issue is " what is this thing?" said forecaster Jack Beven. "Some storms just dont fit neatly into the definitions."
In the end, a burst of activity near Barrys center compelled Lixion Avila, the lead forecaster on duty, to designate it as a tropical storm.
A tropical storm warning, meaning at least 39 mph winds were expected within 24 hours, was posted from Bonita Beach north of Naples to Keaton Beach in Floridas Big Bend area.
A tropical storm watch, meaning those conditions could arrive within 36 hours, extended from Keaton Beach to St. Marks, south of Tallahassee.
Regardless of the meteorological designation, Barry will deliver abundant rain to Florida, forecasters said. Some areas around Lake Okeechobee and its watershed to the north could receive as much as six inches. That wont end the long drought, but it will provide some relief to lawns, landscaping " and most importantly " the water table.
So, with the rain falling and the wind blowing, officials in Miami-Dade and Broward issued another series of appeals to the public: Hurricane season is here . . . you know what to do.
Stock up on supplies, including enough food and water for at least three days, and develop a hurricane plan, said Broward Mayor Josephus Eggelletion Jr.
"We want to make sure that our residents get ready for the hurricane season by making preparations ahead of time," he said.
Broward will establish sites to distribute supplies, but the priority will be helping people who are not self-sufficient, said Lori Vun Kannon, director of Broward Emergency Management Agency.
This year, the countys emergency operations center will maintain a list of Broward residents who have registered as having medical conditions or other special needs.
"Were going to focus on getting the goods to those people who cant get to the goods," Vun Kannon said. "Each individual city is going to go and bring goods and services to them."
Still, most people will be on their own.
Said Alvarez: "Self-sufficiency is the key. If youre not prepared to take care of yourselves and your family for at least the first 72 hours after a storm, youre just not ready."
Source: Islandpacket.com
---
Related News
---