Ties with Cuba to be strengthened
Submitted by: admin

04 / 17 / 2007
---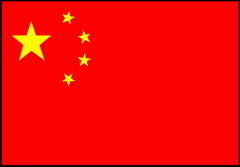 China and Cuba yesterday pledged to strengthen their friendship on their rapidly growing cooperation in various fields.
The commitment was made during an-hour-long meeting between Foreign Minister Li Zhaoxing and his Cuban counterpart Felipe Roque in Beijing.
The two sides agreed to enhance communication and have more dialogue to push forward the mutually beneficial cooperation, with Li and Roque signing an accord.
Roque called on Chinese Vice-President Zeng Qinghong later in the day. He said it was in his country's strategic interest to develop the cooperative ties with China further.
The Cuban foreign minister is on a three-day visit to China, which began on Sunday. Before flying to Beijing, he attended the official opening of the Cuban consulate-general's office in Guangzhou, capital of South China's Guangdong Province.
"Most Cuban enterprises are keen to enter the Guangdong market because it has become one of the major trade partners of Cuba. The consulate-general's office is expected to serve as a bridge for trade and investments between Cuba and Guangdong," Tania Velazquez Lopez, consul-general of Cuba, said.
A trade representative office, set up by a number of Cuban enterprises, was opened in Shenzhen in 2000, Tania said.
Most home appliances used in Cuba are from Guangdong, one of the major home appliance manufacturers in China, she said.
"We will also seek cooperation with Guangdong in telecommunication, bio-technology and tourism because the Chinese province is a leader in these sectors."
Cuba has more than 100,000 Chinese emigrants, most of who are from Guangdong, Tania said. "Since some people in Cuba can speak Cantonese and since it also has a Guangdong Street, I believe that the harmonious relationship between the two sides will lead to increased cooperation in tourism and cultural exchange."
Source: China Daily
---
Related News
---