Tierra Brava, a bet on diversity
Submitted by: admin

05 / 19 / 2007
---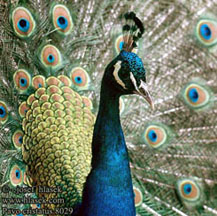 A peacock wooing its mate was the first sight revealing the presence of species almost extinct from the Cuban countryside.

The scene is just one among many to enjoy at the Tierra Brava reserve, Sao Arriba, near the city of Holguin. This is one of the six reserved grounds for rare species currently existing in the province aimed at rescuing autochthonous animals on way to extinction.

At his ranch, Jose Angel Rodriguez, or better Joselin, has attained the reproduction of 16 autochthonous endangered species.

All of Joselins productions are used as genetic animals, for breeding; thus he can sell or exchange specimens to other producers all around the country.

When asked, this breeder says that "These animal mean the world to me, I live with them; they give sense to my life, and help improve the environment". At Tierra Brava, a unique beautiful countryside landscape; you can find goats, lambs, poultry, rabbits, and Appaloosa horses.

At the cattle barn a research project has also been implemented with genetically improved goats to increase the milk and meat yield using artificial insemination.
The first specimens were imported from Canada and Australia, however they have successfully adapted to Cuban conditions.

As part of the national program for genetic engineering, there are over 28 000 breeding specimens at Holguin territory, mostly in private ranches.

Engineer Dania Batista Paneque, head of Holguin Provincial Genetics Group, stressed the value of such activity. "We also want to point out the social role played by these reserves as therapy areas for the mentally upset, young people training; and for the research on artificial insemination and new pasture lands and fodder techniques and varieties. Results are not limited to genetics, they extend to phytogenetics".

Over 50 peacocks are now living in the wild at Holguin province. Species have been genetically improved in the whole territory. Provinces like Granma, Guantanamo and Cienfuegos have also profited from local experiences.

The Tierra Brava reserve is a referential area for genetic reserve of the urban agriculture. There, Joselin has experienced the goodies of genetics allowing him to significantly increase his cattle.
Source: AlDia.cu
---
Related News
---