Thumbs up for Cuba degrees
Submitted by: admin

12 / 10 / 2006
---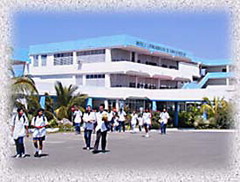 Barbadians studying in Cuba no longer have to worry about having their qualifications recognised when they return home.
This was one of the key agreements coming out of the fourth meeting of the Barbados/Cuba Joint Commission held over the last two days.
For the last few years, students and their parents have aired concerns about whether these degrees would be recognised. This concern was particularly grave for students who require accreditation from their respective professional bodies such as medical students.
Permanent Secretary in the Ministry of Foreign Affairs and Foreign Trade, Teresa Marshall, said that a special accreditation mission went to Cuba with representatives of the various professions and assessed the training on offer.
"I think we can safely say that the matter has been resolved," she added.
Deputy Chief Education Officer Glenroy Cumberbatch explained that the Ministry of Education had created requirements for equivalents and the programmes in Cuba had met them.
Hence, once graduates have been accredited in Cuba, their qualifications will be recognised in Barbados. Marshall noted that Government "has been anticipating" the challenges the Cuban medical graduates in particular would face and worked to resolve these issues before the first batch of 10 returns next year.
Some 67 Barbadians are presently studying in Cuba, 20 of whom are medical students.
Source: The Nations Newspaper Barbados
---
Related News
---