The port of Havana was the first Latin-American port that received a steamship
Submitted by: admin

10 / 10 / 2006
---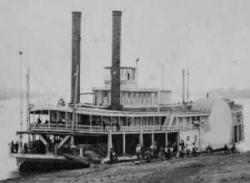 The port of Havana was the first Latin-American port that received a steamship. The event took place in February of the year 1819 when entrepreneur Juan O'Farrill bought the "Neptuno in New Orleans and inaugurated weekly passenger and cargo service between Havana and Matanzas, only a decade after the first commercial use of steamships in the North.
After United States, Cuba was the second country of the world that owned a ship with such highly innovative system at that time. In Europe, France and England, some experiments were carried out but the first attempts failed.
At the beginning, the ship was used to make short trips out of the Morro entrance at a cost of two pesos. This was a real luxury because they were the first sea trips with that new technology.
In spite of the latest innovation, the steamship started to render the service for which it was brought. It would be a weekly outward trip and a return trip from Havana to Matanzas carrying loads and passengers.
There are not exact data on the displacement and speed, however, it seems that its tonnage did not exceed two hundred tons and its speed ranged over 12 knots. At the beginning it was called Mississippi and later it was renamed Neptuno.
---
Related News
---