The Parandes from the old town of Remedios
Submitted by: admin

10 / 10 / 2006
---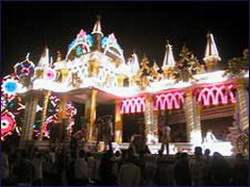 One of the most authentic traditional celebrations in Cuba are the parrandas (to go out partying) from the old town of Remedios located at central part of the island.
A catholic priest gave origin to this celebration by grace of coincidence. It is said that the priest found the best way to convene his congregation to the Christmas parties between December 16 and 24 waking them up with an infernal noise of cans filling with stones, pots, and other nothing harmonic instruments. Then, his community unable to sleep attended the church.
The priests initiative pleased the inhabitants of the colonial town and soon later, each neighborhood had its own musical groups who gradually began to change the instruments and improve the rhythm to become them in the current ringing of gangarrias , rejas(grilles), botijuelas, cowbells and tamboras (drums) identifying the Remedios parrandas.
Every Christmas eve, the settlers of a neighborhood went to wake their neighbors up while their neighborhood was invaded by them.
Thus, it happened up to the year 1871 when the parrandas adopted the structure they still keep today.
The Remedios parrandas are organized during the whole year involving sacrifice and resources and they scarcely last only 12 hours. Dance is not the most important element of parrandas and Cuban music gives way to the European polea.
Unlike carnivals, there are no masks and congas to sing and dance in the streets. It is not only a show either. It is a celebration involving every inhabitant of the town building the floats and making real monumental decorative works in the squares and later at the celebration as such.
A line traced over the asphalt divides in two the center of the city. From one side, the sansaries who are the inhabitants of San Salvador neighborhood, to the other side, the carmelitas from the El Carmen neighborhood. Both sides await the church bells at nine oclock at night of December 24th to start the hostilities. The parrandas are real wars where each neighborhood displays energy and creativity in a frenzy of pyrotechnics to beat the other. It is a noisy show of firework bursts, rockets and lights.
Each neighborhood makes its presentation separately. For each contender there is an initial show known as a "greeting", six presentations 30 minutes each and a final rematch. The Remedios parrandas highlight due to the show of rockets, fireworks and lights that every side feature.
This is a war that always ends in the same way, with the brotherly hug of the members of both sides at the break of the happiest and the most musical day of the whole year.
---
Related News
---