The Habana's Fountains
Submitted by: admin

01 / 23 / 2007
---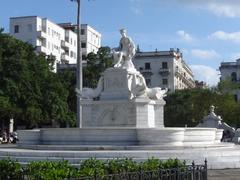 As a tradition in the great humanity evolution, the life of the population settlements flow around the fountains, and Havana city is not an exception.
The oldest fountain is Fuente de los Leones located next to San Francisco de Asis Convent, in the square of the same name, between the Oficios and Avenida del Puerto streets. It was brought from Italy in 1836 sculptured by artist Giuseppe Gaggini. It is made of white marble. It is a striated column with four lions supported by pedestals. It offers a beautiful view of the water falling from the mouth of the lions, surrounded by hundreds of pigeons, carriages and people walking.
A year later came from the same origins and by the hands of the same artist the so-called Fuente de la India or Noble Habana whose main character made also in white marble is adorned with plumes and symbolized the Cuban capital for many years. It is located diagonally to the Capitolio Nacional and it was inspiration for the Matanzas poet Gabriel de la Concepción Valdés (Plácido) who dedicated it a sonnet whose first stanza says:
"Mirad La Habana ahí color de nieve,
Gentil indiana de estructura fina
Dominando una fuente cristalina
Sentada en trono de alabastro breve....".
In 1938 the Fuente de Neptuno came. It is made also of white marble and represents the god of the sea supported by its typical trident with thoughtful gestures and a pair of dolphins at his back. It is located in Avenida del Puerto, just before the bay.
The outstanding figure of the engineer Don Francisco de Albear y Lara is a motif that could not be missing for a fountain in old Havana. He built the aqueduct of this city whose plans and design amazed the scientific world at that time.
His statue ends in a small fountain located in a small square surrounded by Monserrate, Obispo, Bernaza and O'Relly streets. This sculpture was inaugurated in 1895, 8 years after the death of Albear and it is located just in front of the famous restaurant El Floridita.
In the middle of Plaza Vieja is erected a replica of the fountain placed there in 1796 when the square was called Nueva. It is a wide octagonal basin with a rectangular base and made of Italian white marble.
There are other fountains in popular areas of the city. We can mention La Fuente Luminosa of Vía Blanca and Boyeros, in the center of the traffic circle facing Ciudad Deportiva, and Fuente de la Juventud, on the corner of Malecón and Paseo streets, in Vedado.
Maybe there are others of less ostentation but they are also welcomed in every corner of this city of Havana where they are located waiting for those that will discover their charms.
---
Related News
---