The Cuban Rum: An authentically Caribbean product
Submitted by: admin

11 / 03 / 2006
---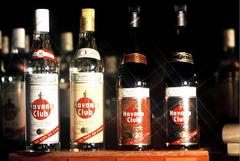 The rum is an authentically Caribbean product, obtained from the sugar cane. Cuba owns ideal geographical conditions for growing this gramineae.
According to historical documents, the term Rum emerged with the syncretism of cultures that took place in this part of the world. It is believed that this name dates from 1688 as the result of a symbiosis between "rheu" (stems in Sevillian patois) and the word "bouillon" (that means clear soup in French). Then, the term created in Caribbean patois was "rumbillion" that later was only used rum.
This popular drink is obtained from the molasses because of a process of the sugar crystallization in the sugar mills. One advisable dose of yeast is also added in such a way that it can produce an alcoholic fermentation in 30 or 40 hours. After this first step, great stills will distill alcohol and it will decant a primary rum of 75 degrees, which is kept in white oak barrels for two whole years. Later, it is took to mix it with water and caramel to make a base rum that is to be ready to consume after another whole year in the same conditions above mentioned, with the same temperature and semidarkness.
This is the primary process for obtaining rum. Other processes are carried out starting from this one, according to the variety desired. Certain percents of other mature rums are added to that white rum and given more time for rest. The harshness in the periods and steps to be followed are essential for the quality of the product.
The white rum is obtained, as we can see, after three years, and it is ideal to make cocktails some of them so famous like the "mojito" and "daiquiri". The carta oro is a five years golden rum, the famous 7 years rum is obtained after this time, and it has a dark amber color.
Tradition, human wisdom and constant treatment in addition to nature itself, has made Cuba an exceptional place for this coveted liquid to emanate to the rest of the world.
---
Related News
---