The Cuban Carnivals
Submitted by: admin

10 / 10 / 2006
---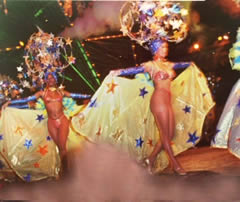 The Cuban carnivals are celebrated every year throughout the country. However, those from Havana and Santiago de Cuba cities are the most significant, each of them with its own identity.
Those celebrations, as well as, other Cuban typical festivities emerged during the slavery time. Every January 6th the slavery population was allowed to go out to the streets to sing and dance to the sound of the musical instruments that homesick made them to take up again in these lands.
Every celebration has floats and musical group parades with particular characteristics like their costumes, masks and the very infectious music made only in a land like this one.
The carnivals of Santiago de Cuba are celebrated in July; the members of its promenades and musical groups go all over the whole city followed by the congas. It is said that congas are the direct link with the carnival genesis, the pure and living rhythm with drums, loud bells and the high-pitched Chinese trumpet whose sound identifies each neighborhood and the Santiagos celebration in general.
The Havanas carnivals are celebrated all over Malecon street in summer time, sometimes due to reasons of national connotation they are postponed. The Guaracheros de Regla is a legendary group that even today characterizes the capitals carnivals.
---
Related News
---