The Bejucal Charangas (brass bands)
Submitted by: admin

10 / 10 / 2006
---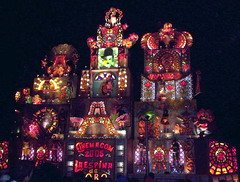 The Bejucal Charangas (brass bands) like other Cuban traditional festivities owe its existence to the slavery black population of the colonial time. After the Misa del Gallo (Christmas mass) they used to dance to the rhythm of the drums around the church of that Havana location while white and free mulatto peoples enjoyed that show where they invoked their goddesses through frenetic movements.
Those charangas became very soon in a space of severe confrontations between the Spaniards that formed the malayos side and the Creole people, from that of the musicanga. The latest gathered black people being or not slaves, mulatto and white peoples that followed the violent beats of the drums, whereas the malayos paraded in a martial way to the rhythm of their musical band.
Due to the development of these celebrations in the 20th Century the sides change their names. Musicanga became into La Ceiba de la Plata with a distinctive blue color and a scorpion as symbol. The Malayos began to be called La Espina de Oro with the red color and a rooster as symbol.
Today, the charangas are a combination of music, dance, theater, handcraft etc.
They are notable for their drums, their council, and for characters like the Macorina, the Mojiganga, the Yerbero, the Bollera and the Culona.
They are celebrated at the end of December. Each side prepares, during the whole year, a float of great dimensions full of light and color. The themes of their design are based on Cuban and universal culture without dismissing the current events of the country.
However, the most important aspect of the Bejucal charangas is the secret that members of each side keep on the theme and development of their floats until the great night of charangas. That night, the whole town is gathered in the park next to the church to enjoy an indescribable and an extraordinary experience every year.
---
Related News
---