The baptism of Havana streets
Submitted by: admin

02 / 06 / 2007
---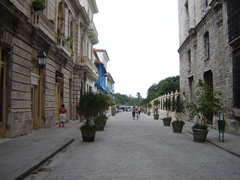 According to History, after the constitution of the Havana Town Council in 1603, alderman Juan Recio expressed his concern due to the disorder in which the city was being built and the need to name the streets as a guide for the location of the future buildings.
However, there was no any legal disposition that named neither the existing streets, nor the ones to be built, the people themselves named them in the middle of the chaos prevailing, they were entrusted by their own will that comprehensive and responsible task.
Then, letting the popular imagination to run free, the street where the shoemaker, the jeweler or the scrivener worked was known as Los Oficios street. Other routes were named regarding what made them to highlight. For that reason, the street where a leafy avocado tree grew was named Aguacate (avocado). The street where a still (Alambique) quenched the dwellers was named that way. In addition, the Zanja street owes its name to the aqueduct channel that crossed the street.
Other streets were baptized with peoples names. For example, Gervasio street was named that way for the gardener who sews the first mango tree in Cuba. They were mostly named, of course, in honor of outstanding personalities of the higher social status in the different fields, from politicians to writers and scientists.
It is said that, once general captain Ricafort got caught in the rain while he was passing one of the streets, still without name, and a neighbor known as the Mendez widow gave him refuge in her house. From that simple incident on the street was named Refugio (refuge) and not Ricafort because the seriousness asked by alderman Juan Recio was a little flexible. However, the governor continued to visit the new street that was his "Refugio" (refuge) and the name will remain that way for posterity.
Those are only few examples of the ingenuity that Cuban people own and from where it was born, together with their culture, the names that distinguish the streets of Havana city.

---
Related News
---