The Athens of Cuba
Submitted by: admin

05 / 28 / 2007
---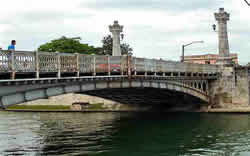 Matanzas province, known as "La Atenas de Cuba" (The Athens of Cuba) is located 100 kilometers to the east of the Cuban capital. It was nicknamed the Athens of Cuba because it was the birthplace of prestigious poets like one of them who has become a real legend, Carilda Oliver Labra, author of the popular poem " Me desordeno, amor, me desordeno"
However, there are some other names referring to that delightful city, situated to the north coast, 30 kilometers to the west of Varadero. Some people call it "La Bella Durmiente" (the Sleeping Beauty") due to its romantic position surrounding a bay of calm waters, "La Venecia cubana" (The Cuban Venice) because of the three rivers that cross the city or "La ciudad de los ríos y los puentes" (The city of rivers and bridges") precisely for the large number of those in the city.
The aboriginal population that dwelled this area called it Yucayo, therefore, another way to name it is "La gentil Yucayo" (The gentile Yucayo). They used to name the Matanzas rivers Yumurí, San Juan, Canímar and Buey-Vaca rivers as Babonao, Guainey, Jibacabuya and Gueybaque, respectively.
There are many curious things of this land to tell. What is if we said that in a certain time for 12 years there were real camels brought to be used in the rise and shot work of the sugar cane but the results were not those expected by their sponsors.
Nevertheless, not only curiosities like the one abovementioned are in the history of Matanzas but also there are many first fruits since 1693.
In the district known as "Las Alturas de Simpson" the danzon was born, which was homonym and first of its genre and today it is the Cuban national dance. Its author was Miguel Failde from Matanzas province.
In the Pueblo Nuevo neighborhood, at the Palmar de Junco baseball field took place in 1874 the first baseball game held in Cuba with the required organization and rules. The game was between Havana and Matanzas clubs.
The first Pedagogical Congress of Cuba was held in 1884 in this famous cultured city.
There are many other peculiarities of this old major city of the Cuban northern coast, to which we can access directly from the capital through Via Blanca and crossing the highest bridge of Cuba.
---
Related News
---