The 5 best places for Scuba Diving in Cuba
Submitted by: admin

12 / 05 / 2006
---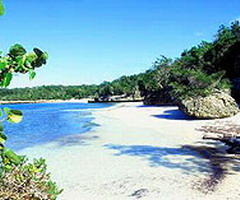 Captivating Cuba offers specialist advice on the top 5 places for scuba diving in Cuba. Cuba is a great place to scuba dive. The waters surrounding the Cuban archipelago are warm with an average annual temperature above 24°C, mild tides and no strong currents. Standing on a large, exuberant and totally virgin coral reef, Cuba is a sunken paradise for those with a passion for diving. With an average horizontal visibility of 30 meters (98 feet), the Cuban waters possess diverse flora and underwater fauna and an absence of aggressive animals.

Number one on the list of places for Cuba scuba diving is Maria la Gorda. In the westernmost part of Cuba in the Pinar del Rio province, Maria la Gorda is a remote and beautiful location which is one of the least developed and most natural parts of Cuba. Located within the Guanahacabibes Peninsula, a world biosphere preserve, there are two dive zones, one to the north and the other to the south. The configuration of the bottom is scaled, allowing multilevel diving.

All scuba diving sites are within a short distance from the shore and just minutes from the hotel. Features include abundant black coral walls, wrecks from the 18th century, flora and fauna in excellent condition, no currents due to its geographical position and diving facilitated all year round. Its seabed also has a series of steps, which are excellent for multi-level scuba diving (between sunken shops and coral) and speleo-scuba diving. Caves in the ocean and on land are excellent for practicing cave and cavern diving. These Cuba scuba diving sites are very close to the Hotel Maria La Gorda. The dive boat goes out once in the morning and again in the afternoon. Night diving departures depend on demand. You can reach Maria La Gorda via land transfers from Havana, about 4 hours each way.

Second on the list of the 5 best places to enjoy scuba diving in Cuba is Cayo Levisa. Cayo Levisa is a small offshore key located off Cuba's northwest shore, about 1 hour west of Havana. The dive sites are on the northern side of the bay, where there is abundant coral, sponges, black coral and medium to large tropical fish. Especially notable is the presence of accessible 17th and 18th century wrecks of archaeological interest. There are no currents here and walls at a 20-and greater meter depth. You can stay at the Hotel Cayo Levisa, a quaint hotel with 40 rooms. The island of Cayo Levisa is accessible by a twice daily boat from the mainland and take 45 minutes.

Third on the list of the top 5 places for scuba diving in Cuba is Cayo Largo. Off the southern coast of Cuba, Cayo Largo is 177 km south of Havana and 120 km east of the Isle of Youth. The diving is based out of Playa Sirena. This area contains some practically untouched beaches and coral reefs in addition to the tunnels, steep walls, ridges, hillocks and mountains of coral reefs as well a wide variety of fish and chelonians. As there are barrier reef just 1 km offshore, Cayo Largo is protected from rough seas and the water temperature is around 25ºC. Sol Cayo Largo hotel is located on an idyllic stretch of beach, flanked by palm trees. Domestic flights from Havana to Cayo Largo take about 45 minutes.

The fourth best place to scuba dive in Cuba is Playa Giron. Located east of the Bay of Pigs on Cuba's south shore, Playa Giron is 71 miles from Havana about a 2 hour drive from Varadero. The international dive centre in Playa Giron features mainly shelf diving in addition to peculiar deep caves in the area. Diving sites are less than 80 meters from the shore. The top attractions here are the sheer drop offs close to shore that are riddled with swim throughs and make great shore dives. There are also some shallow shore dives for beginners and a wreck that was purposefully sunk in 1994. There are abundant corals, sponges and gorgonians and reef fish. There are also a couple of inland cave dives for more experienced divers. Captivating Cuba recommends staying in one of the 290 rooms at the Hotel Playa Giron. Road transfers are available from Havana and take about 4½ hours.

Lastly, number five on the list of the top 5 places for scuba diving in Cuba is Faro Luna in the Cienfuegos province. Cienfuegos is called the Pearl of the South, on Cuba's central south shore. The city is consistently awarded and recognized for its efforts to maintain the clean environment of its waters. There are 28 diving sites identified in the area. The Faro de Luna Diving Center has shipwrecks, coral formation barriers so tall that they sometimes reach the surface, and channels. The area is noted especially for the clarity of its waters, making it an ideal site for underwater photography. One of the special features of this area is a the Pillar coral that's size and elegance has been led to its being called "Caribbean Lady" or "Notre Dame". Road transfers are available from Havana and take around 4 hours.
Source: PRWeb
---
Related News
---