Tenth Overseas Chinese Festival in Havana
Submitted by: admin

06 / 02 / 2007
---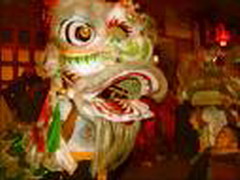 The historic importance of the Chinese community in Cuban society is one of the central themes at the Tenth Overseas Chinese Festival taking place in Havana until June 3.
"The Chinese have been an inseparable part of Cuban history for 160 years and have contributed to the development of our revolution and to the strengthening of the unbreakable ties between Cuba and China," said Brigade General (R) Gustavo Chui, president of the festivals organizing committee, during the opening of the festivals series of academic conferences.
A delegation of high-level officials from several Chinese provinces is in Cuba for the festival; the delegation is headed by Zhang Enxiang, vice president of the Permanent Committee of the Peoples Assembly of the province of Jilin.
Enxiang spoke on behalf of the Chinese Friendship Association to a group that included presidents and representatives from the 13 Chinese Societies in Havana, Holguin, Bayamo, Camaguey and CIego de Avila; and delegations from France and the United States. "We are relatives because we have the same blood, and our ties are deeply rooted. We are confident that the traditional friendship between Cuba and China will sow seeds in young people and will be carried down from generation to generation."
This years festival marks the 160 anniversary of the beginning of Chinese immigration to Cuba when the Spanish ship Oquendo left Xiamen to arrive 131 days later in the Havana Port with 256 Chinese laborers. They were the first of 150,000 Chinese that came to Cuba by the end of the 19th century, marking one of the biggest and most important waves of Chinese immigration to the Americas.
Source: By Rose Ane Dueñas, Granma
---
Related News
---