Tacon Street: the only remaining street in Old Havana with wood bricks
Submitted by: admin

11 / 03 / 2006
---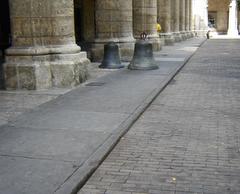 Tacon Street was numbered as a continuation of Oficios Street and it was named that way in memory of Don Miguel Tacon y Rosique, a Spanish military and politician who was General Captain of the island from 1834 to 1838. His government of absolute and hostility faculties towards the Creole people kept a contradictory balance between repression and public works actions in San Cristobal town.
The end of the street coincides with the starting of Empedrado Street where the Santa Barbara curbside was located. In the 17th Century, this place was known as El Boquete de los Pimientas (Pimientas hole) due to the shipyard property of this family of ship owners together with Oporto and Veloso families. Before the Malecon filling, the sea was very close to this place therefore, it was known as "El Boquete" that was an opening of the sea wall through which Havanas streets drained and the fish was introduced. Due to this sitting, the building of the fish shop by governor Tacon in 1836 was defined by historian Jacobo de la Pezuela as "...one of the main daily basic provisions center in Havana..."
One of the houses that distinguish this street, because of its architectonical relevance, is the house No. 4 located on the corner. This was the house of outstanding personalities like the presbyter and important musician Don José Ignacio Díaz Pimienta, Don Martin de Arostegui y Larrea, chairman of the Royal Trade Company of Havana, first institution of its kind in the country that lead to the emergence of the farming and manufacturing bourgeoisie in Cuba. In addition, it was the house of bishop Don Santiago Jose de Hechavarria y Elsegua, who consecrated in 1768 as the first Creole prelate of the country. He was in charge of the creation of the San Carlos and San Ambrosio seminary school and the San Juan Nepomuceno refuge among other charitable works, aimed at providing maintenance to needy people.
From 1928, this street was formed by an only one block between O'reilly and Empredado streets starting from Plaza de Armas. After building "el relleno del Malecon" the Malecon filling on Avenida del Puerto street and the neighboring garden areas, Tacon street was extended to Cuba street, this new area covered what it is used to be "La Cortina de Valdes" walk and the lot of the demolished Artillery Armory. It is considered the spot within Havana walls that has gone through greatest changes due to its complex location over a land next to the Havana bay entrance.
As an interesting fact this street has a section made of wood bricks jut in fron ot the Palacio de los Capitanes Generales.
---
Related News
---