Spains Bruno Antero wins third leg of Cuban bike tour
Submitted by: admin

02 / 17 / 2007
---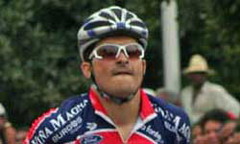 Always pedalling within the pack, without losing out to those who dominated the final kilometers, Spains Bruno Antero win the third leg of the "Vuelta a Cuba" bicycle tour. He finished with a time of 3:06.22 traveling 125 kilometers between the cities of Santiago de Cuba and Bayamo.
"It was a very demanding race, with several breakouts and a speedy final sprint of almost 60 kilometers per hour. I dedicate this victory to the whole team that held the line and supported me in pack, although we all continued to work so that Victor Gomez stayed in the fight for the title," said Antero.
Observers described the tour as the most demanding since the Cuban tour was re-inaugurated in 2000, because two cyclists held on to the leaders T-shirt that Anthony Berea (VEN) still possesses.
The race was characterized by several falls and the usual flats. One of the latter occurred to the back tire of Berea, who received quick assistance from his accompanying back up team. He recovered, drove hard and caught up with the pack to complete the route.
Another rider who displayed an excellent performance was Cuban cyclist Agustin Martinez, the youngest of the 132 competitors who began the journey from Baracoa. He noted that, "This is my first 'Vuelta a Cuba tour. My objective was to make it to the end and place in a respectable position." Martinez told JR at the end of the route
Two other cyclists were disqualified for exceeding the time limit to cross the finish line: Cubans Luis Alfaro and Miguel Perez.
Results of this final leg were: 1) Bruno Antero (Cropusa) 3:06.32; 2) Juan Magellan (MEX) m.t; 3) Gianluca Coletta (Cinelli-Endeka) m.t...
The final individual general classifications were: 1) Anthony Berea (VEN) 9:29.58 hours; 2) Victor Gomez (Cropusa) m.t; 3) Juan Magellan (MEX).
Source: Juventud Rebelde
---
Related News
---