Sounds of the world
Submitted by: admin

11 / 04 / 2006
---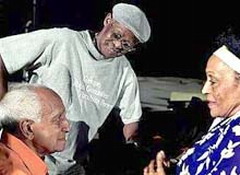 By: Mark Hudson
"I sometimes envy people who can just enjoy music in an easy communal way," says Nick Gold. "Theyll have an album on in the background at a dinner party, and theyll genuinely enjoy it. I cant do that. For me, listening to music is an intense activity.
Golds career is a testament to how far you can go on simply knowing how to listen to music. Currently celebrating 20 years in business, his World Circuit label has established itself as the market leader in world music, enjoying multi-million sales with the Buena Vista Social Club and winning three Grammy awards - two for the late, great desert-blues guitarist Ali Farka Touré. Yet, while it all comes back to Golds instinct, not only for a great performance and a classic arrangement, but for the whole style and feel of the sound that conveys them, he doesnt wear these skills lightly. In fact, he agonises over every last note and beat.
Ive known Gold, 45, for years, have visited his studio in a north London backstreet innumerable times, and when I call, he and recording engineer Jerry Boys only ever seem to be, well, listening to music. As they are now, with Cuban crooner Ibrahim Ferrer booming from the speakers. Ferrer, the surprise star of the Buena Vista phenomenon, who died last year aged 78, wrote to Gold on his deathbed, begging the producer to complete his lifes great work - an album of songs in the mellow bolero style.
While Gold had already recorded some tracks, Ferrer had prepared his own demos in Havana, but with no real producer at the helm. Thats what were listening to now: Ferrers voice wrapping itself round beautifully-judged piano phrases, while the hiss of brushed drums adds the warm feel of old vinyl. While Gold has added percussion and guitar, he is now, after painstaking re-listening, taking it off again.
The music simply didnt need it.
"There are two kinds of producers, says Gold. "The Phil Spector kind, where everything, even the artiste, is subordinate to his vision. And theres our kind - where were simply trying to bring out the essence of whats already there. A lot of it is to do with really knowing the artistes and their material. When youve spent time watching a band rehearse and play live, you start to see levels of intensity the musicians may not be aware of themselves. Thats what were trying to capture in the studio.
Gold began developing his listening powers young, introduced to jazz by his father, the film director Jack Gold. As an adolescent, he was constantly in and out of Londons jazz and blues record shops searching for rare pressings of Charlie Parker and Lester Young.
"Id sit in my room listening to five or six takes of the same song, trying to work out what made each special, and picking out tiny moments that Id play over and over. This must have been invaluable experience when he was thrust into the role of producer.
After completing a history degree at Sussex, he was offered work experience with a small live-promotions agency called Arts Worldwide. It was 1986, there was an upsurge of interest in world music, and when Arts Worldwide decided to take one of its acts - Kenyas Shirati Jazz - into the studio, Gold found himself in the role of supervisor, despite never having been behind a mixing console before.
World Circuit became an entity in its own right when Gold bought out his former employers. He achieved his first real production credit with Ali Farka Touré, the Malian singer and guitarist who was to be a huge influence on him, right up to Tourés death earlier this year. Touré introduced World Circuit to several of its most important artistes, including West African divas Oumou Sangare and Dimi Mint Abba, kora virtuoso Toumani Diabaté and, most significantly, guitarist Ry Cooder, who produced the Buena Vista Social Club.
"Ali was a constant presence for 19 years, says Gold. "I learnt an incredible amount from him. His death has left a huge hole. To be honest, I dont think its quite sunk in yet.
Golds career parallels the development of the world music phenomenon. He was present at the meeting in 1987 where the term was devised as a marketing tool (though he claims not to have said anything). Indeed, by championing more mature artistes in defiance of our youth-obsessed mainstream, in extending the highest production standards to artistes from poor countries and in flouting musical fashion, while remaining prepared to experiment, World Circuit might be said to represent the best of what world music has been about. Yet Gold is ambivalent about the concept.
"As a way of getting records into shops, 'world music has been fantastic. But it would have been nice to have got beyond it - if, say, African and Cuban music could have become established as genres in their own right. Theres something about lumping 90% of the worlds music together as one thing that seems fundamentally wrong.
Whatever you choose to call the music, though, his formula for a great album remains simple: "Find good musicians, get a good engineer and press go! It is all down to the artiste. You cant make an Ali Farka Touré album without Ali Farka Touré - no matter how good a producer you are.
Source: Cubarte
---
Related News
---