Solar energy has a promising future in Cuba
Submitted by: admin

05 / 26 / 2007
---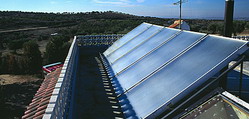 Dr. Luis Berriz, president of the CUBASOLAR society, spoke about Cubas potential for developing solar energy infrastructure duriing the Fifth International Convention on Renewable Energy, Energy Savings and Energy Education CIER 2007 being held in Havana.
"Thanks to its geographical location and rich human capital, Cuba has a good potential to increase its use of solar energy in the coming years," Dr. Berriz said.
Dr Berriz told GRANMA that there is abundant solar radiation throughout the year in Cuba, even during cloudy or rainy days. He pointed out that for each square meter of surface there is the equivalent of half a liter of oil in solar energy. "Based on this estimate, for an area as small as 50 square kilometers, during a whole year, the available solar energy potential is equivalent to approximately 10 million tons of oil.
Dr. Berriz also spoke about a program underway to provide solar energy to all homes and villages in remote and mountainous areas in Cuba that are outside of the national power grid.
Cuba is also developing its potential for generating solar thermal energy; a method that uses solar heated water that can be applied in the preservation of food, dairy products and pastas and for drying wood, as well as other drying process.
India and Cuba sing cooperation agreement
The governments of Cuba and India signed yesterday a cooperation agreement protocol about renewable energy for the period between 2007-2009, that includes scientific exchange and the development of joint research projects in sources like wind, biomass, hydro, photovoltaic and solar thermal energy.
Source: By Orfilio Peláez, Granma
---
Related News
---