Sociocultural community project Guerrilla de Teatreros will perform at the Cauto river
Submitted by: admin

11 / 20 / 2006
---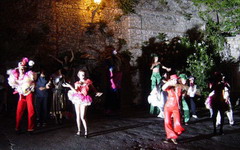 Famous by his tours to Sierra Maestra -the highest mountainous region of Cuba-, the sociocultural itinerant community project Guerrilla de Teatreros will perform this month at the plains next to El Cauto, the country's longest river.
René Reyes, director and founder of the troupe, announced to AIN -the Cuban News Agency- they will be making several performances, from November 17th-26th, at twelve communities of El Cauto river, a Granma's municipality, as they have been doing since 2004, bringing joy and happiness to its neighbors.
Around 30 professional artists will be singing and acting out at several towns such as Guamo, Viejo Guamo, El Mango, Camagüeycito, Cayamas, Cauto Embarcadero, Vado del Yeso, El Jardin, and Santa Rosa -Reyes highlighted.
He also pointed out that the program will include a clowns' show, a story entitled El Hambre - Hunger, written by Onelio Jorge Cardoso-, as well as performances of Cimas quartet and the Comunitarios del Son sextet, both members of the project.
Since its creation, in 1992, the Guerrilla de Teatreros makes a two-month trip yearly by the intricate places of Sierra Maestra. In 2003, this troupe received the international award Somos Patrimonio, from the Cultural Center Andrés Bello.
Last February, they performed together with Canadians friends of Cuba. The tour lasted 11 days.
The visitors could know first-hand the reality of our country, as well as the changes that suffered the Cuban Rebellious Army, during its last years, at the war scenarios. Besides this, they learnt dances and other cultural expressions of the mountaineers.
After the revolutionary triumph, in 1959, the government of the biggest Caribbean island brought free education, arts, sports and recreation to all the provinces, and only seven years ago, it began the modernization and consolidation of these services.
---
Related News
---