Sip mojitos in epic squares, samba in the sawdust then hit the beach
Submitted by: admin

12 / 16 / 2006
---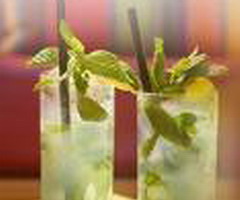 BAKING hot sunshine, sexy salsa beats, beautiful cities, stunning beaches, fascinating culture and friendly people - Cuba has to be the ultimate holiday destination.
And the secret is out. In 1997, fewer than 46,000 Brits travelled to this island that's fewer than 100 miles from Florida. Last year more than 160,000 of us made the trip.
So if the closest you've got to the Caribbean's largest island is owning a Buena Vista Social Club CD, it's time to get on a plane. You won't be disappointed.
I'd longed to visit Cuba for the past 10 years and was thrilled to be finally going.
What I found was a fascinating. On the one hand a paradise of turquoise seas and white sands, on the other a land of crumbling Spanish colonialstyle architecture.
Then of course there's the famous rum, legendary cigars and national hero - Che Guevara. A man whose face, emblazoned on a million T-shirts, postcards and mugs, follows you everywhere. On top of all this, it's a fascinating country politically.
Fidel Castro, the Communist dictator who has run Cuba since the 1959 revolution, is loved and hated in equal measure.
He's created an astonishing 98 per cent literacy rate and fantastic public healthcare system but is also accused of allowing his people to starve.
As a result most Cubans are very politically aware.
But despite the island's poverty, from the moment our plane touched down, we found the people welcoming, fun-loving and relaxed.
Most visitors, especially firsttimers like me, like to combine the two very distinct sides of the island's character.
This meant three days in the frenetic capital, Havana, drinking mojitos and listening to salsa, followed by 11 days relaxing at Varadero, the island's legendary beach resort.
After arriving late in Havana and going straight to bed I felt like a lazy start to the holiday.
This meant whiling away the morning walking the streets, admiring the beautiful Spanish architecture and the classic 50s American cars that chug along every street.
It quickly becomes apparent that music is an integral part of Cuban life. On every corner you hear the pulsating sounds of salsa or mamba.
Cubans love to dance and they can grind and wiggle their bottoms like no other nation.
First I headed to the tourist hotspot of Old Havana to take in some of the beautiful squares and churches.
But it's also well worth exploring the city's back streets to get a sense of the real Havana.
Decaying houses, some as high as five storeys, somehow manage to stay standing, as children play barefoot in the streets below.
When it comes to accommodation, one place beats all the others - The Hotel Nacional de Cuba.
It's a sight to behold, perched in a rocky outcrop overlooking the Malecon, a six-mile-long sea wall that sweeps around the bay. Built in 1930, the likes of Ava Gardner, Frank Sinatra and the Duke and Duchess of Windsor have strolled down its grand corridors.
Even if you don't stay here, you can always enjoy a cocktail and soak up the old-world atmosphere.
A mojito - the famous combination of rum, soda, lime juice, sugar and fresh mint - on the terrace bar is worth every penny at £4.20.
Evenings were spent wandering along the Malecon where locals meet to dance, flirt and drink rum.
Cuba has a very low crime rate and while you must be careful with cameras and wallets, most locals just want to chat but happily take "no gracias" as a sign you don't want to.
An enjoyable afternoon was spent at the Museum of the Revolution on the historic Plaza de Armas.
And the final evening in Havana was spent at Tropicana - the 70-year-old famous cabaret. Think big hair, bright colour, sequins, high kicks and lots of singing. All of which makes for a fun night out - helped along by the quarter bottle of rum everyone receives on their arrival.
I felt I was starting to understand the Cuban spirit as my time in Havana drew to a close.
But after three days of continual walking and long nights of salsa dancing, I was looking forward to some respite at my next destination.
And I wasn't disappointed.
Varadero comprises 20km of soft white sand, crystal clear sea and blue skies.
Most hotels on this famous strip are all-inclusive, which means you can relax and not worry about a thing. Bliss.
My beautiful hotel, the Paradiso, was so well-equipped many of the guests told me they hadn't left the complex once all holiday!
Set in lush, beautifully-manicured grounds, the beach is a two-minute walk away while in the grounds are two pools, four restaurants, numerous bars plus a gym, tennis court and beauty parlour. While it's true that Varadero is the most commercialised part of Cuba, it's still a world away from Spain's Costas.
It was in 1920s that tourism really took off here. Bored of Miami and gagging for a drink during Prohibition, the rich, famous and dodgy saw Cuba as a boozy playground.
With everything on tap I spent most of the time swimming, eating and sleeping. But halfway through, feeling a bit lazy, I decided to take a day trip (a variety can be organised by your hotel at extra cost).
I chose Santa Clara, the site of Che Guevara's greatest battle in 1959, and the perfect place to visit if you're hungry to learn more about Cuba's great hero.
He and his band defeated 600- strong heavily-armed government forces there after using bulldozers to rip up a railway line. You can even see the bullet hotels in the side of the Hotel Libra where the revolutionaries holed up for days.
The trip is long - leaving the hotel at 6am and arriving back 12 hours later - but worth every minute.
It was then back to more sunbathing and Cuban hospitality before my trip ended. I left feeling refreshed, revived and more fascinated then ever by this beautiful island.
Now is the time to see Cuba - Castro, 80, has missed recent public events and is not well. Whatever happens next we can only hope Cuba retains its incredible rebellious spirit. Here's some other things you should know:
Money - until last year tourists used US dollars but now you have to use the Convertible Peso (CUC) worth around 60p. When leaving, you can convert them back.
You can use credit cards as long as it's not American Express, but the fees are high.
Tipping is very welcome as thanks to the US government's trade embargo, Cuba's economy is forever on the brink of disaster.
Tourism keeps the country going and in a society where the average wage is about £10 a month, a 1 peso tip (about 60p) goes a long way.
Food - even in the so-called superior restaurants and hotels the food is basic and hit and miss.
The locals' staple diet is fried chicken or pork with rice and black beans and this is what you'll get pretty much everywhere - cooked with varying degrees of success.
In the all-inclusive resorts there's plenty of choice at meal times, much of it palatable but rarely delicious.
Good places to try are local paladars (small, private restaurants) where you can get home-cooked tasty, cheap food. Ask your rep or other travellers for recommendations.
Getting there
CAROLINE travelled with Direct Holidays. Prices for a twin-centre package - including four nights' bed and breakfast at the four-star Hotel Nacional de Cuba in Havana - start at £946 per person.
This is based on a package including a further 10 nights all-inclusive at the four-star Blau Varadero in Varadero with two adults sharing a twin room at each hotel.
Prices for a similar package with four nights' bed and breakfast at the four-star Melia Cohiba in Havana (two adults sharing a twin room) and 10 nights' all-inclusive at the five-star Paradisus Varadero in Varadero (two adults sharing a junior suite), start at £1,312 per person.
For a brochure, call 0870 242 2404 or visit www.directholidays.co.uk
4 must dos
VISIT a cigar factory. The Partagas factory in Havana (entry £8 for a 30- minute tour) has been making cigars since the 1840s and the building hasn't changed much since then.
It's a fascinating process to watch but hard work for the rollers, who take it in turns to read to the rest of the factory to relieve the monotony.
Go to one of literary idol Ernest Hemingway's (left with Castro) old Havana haunts. Try El Floridita for a daiquiri and La Bodeguita del Medio for a pricey mojito, but for atmosphere, head for Bar Monserrate just off Parque Central - live music and beers from £1.50.
See Trinidad. The colonial gem of Cuba. Many of the town's streets are still cobbled, paved with the stone that was used as ballast in the ships of early Spanish traders.
This small, beautiful city has some of Cuba's best museums clustered around an exquisite main square. Get back to nature. Pinar del Rio and Vinales are usually combined in a two-destination day trip.
Tobacco-growing region Pinar del Rio offers stunning views of the steep Mogote hills (left), while Vinales Valley is regarded as Cuba's most beautiful spot and certainly lives up to its reputation.
Source: Mirror.co.uk
---
Related News
---