Sherritt sees growth in Cuba
Submitted by: admin

02 / 24 / 2007
---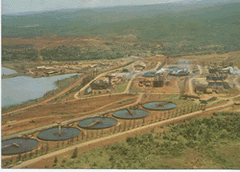 Romina Maurino
Canadian Press
Sherritt International Corp. said Friday it expects growth to come this year through expansion of its power and metals mining projects in Cuba as well as coal projects in Canada, after doubling its full year earnings.
The diversified energy company said metals expansion at its Moa nickel mine in Cuba will lead to a 12 per cent increase in the project's mixed sulphide capacity in 2008, with further expansions planned.
In power production capacity increased to 311 megawatts in 2006 and will reach 376 MW in 2007 - a 66 per cent increase in capacity from the 226 MW at the beginning of 2006.
Sherritt is also developing plans for its first commercial coal gasification plant in Canada with its joint-venture partner the Ontario Teachers' Pension Plan.
"With the main growth initiatives that we have underway, the foundation is in place to grow the company each and every year into the forseeable future," Jowdat Waheed, Sherritt's president and chief executive officer, said during a call with analysts Friday.
His comments came after the Toronto-based company reported full-year net earnings of $245.6 million, $1.42 per share, almost doubling its year-ago profit of $124.3 million or 70 cents per share in 2005, as revenue increased to $1.11 billion from $1.02 billion.
The year included $127.8 million in proceeds following the spinoff of the Royal Utilities Income Fund (TSX: RU.UN) in June, as Sherritt cashed in on its mature coal holdings, retaining 41 per cent of the trust.
Fourth-quarter earnings were $78.6 million or 47 cents per share, up from $9.1 million or five cents per share in the year-ago period on strong commodity prices, especially for nickel. Revenue swelled 26 per cent to $304.2 million from $241.3 million, Sherrit said late Thursday.
Sherritt is active in coal mining in Alberta and Saskatchewan, oil and gas production in Cuba, Spain and Pakistan and nickel and cobalt mining in Cuba and electricity generation in Cuba.
Despite his upbeat outlook, Waheed said Sherritt's first quarter results, primarily for Coal Valley and its metals business, could be impacted by an ongoing CN Rail strike.
The federal government is currently preparing to table legislation ordering 2,800 striking employees at CN Rail back to work, ending a walkout that has all but crippled key sectors of the Canadian economy.
"At this time, our full year sales should not be materially impacted," Waheed said.
On the TSX Friday, shares in Sherritt were trading up 46 cents, or three per cent, to $14.96, near the company's 52-week high of $15.
Source: The Star.com
---
Related News
---