Sevilla Hotel: first luxury establishment in Havana
Submitted by: admin

02 / 18 / 2007
---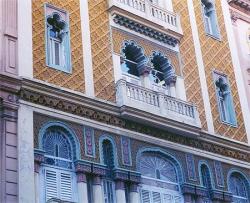 In the 19th century Paseo del Prado (Prado Promenade) became the heart of Havanas social life, because its surroundings featured the most luxury mansions of the city, especially on Sundays when the aristocrats took rides in their carriages.
Add to this that in the carnival season this avenue was the culminating point of the famous local parties.
The passage of time turned the fortification system obsolete and the demolition of the walls began in 1863, and a few years later, in 1880, the construction works of the first luxury hotel in Havana (Gran Sevilla Hotel) kicked off nearby the already famous Paseo del Prado.
One of the few Cuban-led companies was in charge of its construction, which concluded in a magnificent ceremony on March 22, 1908.
The architects got their inspiration from the Moorish lines of the Patio de los Leones (Court of the Lions) of the Alhambra Palace in Granada, Spain, style that stands out for its arches, columns and abundant tiles.
Its four floors had 300 rooms and 9 apartments; all equipped with telephones, bathrooms and luxury furniture.
The inauguration of the Sevilla Hotel allowed the city to open its doors to the incipient tourist business. Architecture, decoration, services and above its location in Havanas historic heart, made this lodging one of the most visited hotels in the first decades of the Republic.
Its fame went beyond the borders of the Island.
US Company Bowman Hotels purchased the Gran Sevilla Hotel and the adjoining building and starting December 1924 it took the new name of Sevilla Biltmore Hotel.
In 1939, the hotel had several adaptations and repairs, including the opening of a refrigerated bar, the first ever built on the Island.
This luxury Havanan lodging continued offering its services until 1965, mainly to the national tourism, and became the headquarters of a hotel school between 1966 and 1969.
Twenty years later, in 1989, the establishment underwent another revitalization and renovation extended till 1993, when it reopened its doors with the splendor that always characterized it, but modernized with a combined concept of comfort and level of international hotel service.
Sevilla Hotel belongs to Gran Caribe Hotel Group since November 1995
Among the personalities that have stayed there throughout its history are Spanish singer/dancer Lola Flores, Argentine actor/singer Hugo del Carril, as well as muralist painter David Alfaro Siqueiros and comedian Germán Valdés (Tin Tan), of Mexico.
It also accommodated former presidents Juan Bosch, of Dominican Republic and Arnulfo Arias, of Panama, Argentine world boxing heavyweight champion Luis Angel Firpo, US gansters Al Capone and Santos Traficante, and Italian opera singer Enrico Caruso.
Source: CubaSi
---
Related News
---