Santiago Takes 2-0 Lead over Industriales
Submitted by: admin

04 / 20 / 2007
---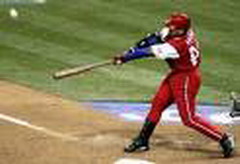 First baseman Jose Julio Ruiz turned the Guillermon Moncada Stadium into a dance floor with a game winning two-run homer Thursday night to give Santiago an 8-6 win over Industriales. Santiago now leaves for the capital with a 2-0 lead in the best-of-seven series.
It looked like Industriales star reliever Yadel Marti had things under control protecting a slim 6-5 lead when he struck out the dangerous Alexei Bell for the second out in the bottom of the eighth with Ronnier Mustelier on second. But clean-up hitter Rolando Merino tied the game with a hit to left. Then, on a 2-2 count Ruiz hit his drive over the right field fence and the stadium went wild.
Unlike the lopsided first game of the series won by Santiago 19-6, Thursdays match had all the excitement that the fans had come to see. Both teams played hard with the lead changing hands four times. Nonetheless, a total of five errors, three from Santiago, meant both teams defenses were not at their best. In game one on Wednesday Industriales erred three times and Santiago once.
Excellent fielding plays by Santiago infielders Hector Olivera (2B), Ronnier Mustelier (3B) and first baseman Jose Julio Ruiz were also part of game. For Industriales, Yadel Marti looked like a shortstop when he fielded a hard hit ball in the sixth and turned it into a double play to get out of a jam.
Santiago southpaw Albert Carrion opened with three scoreless innings before giving up a run on three hits by Alexander Mayeta, Yasser Gomez and Alden Mesa in the fourth. In the fifth he ran into big trouble and got the hook after giving up a three-run homer by Industriales first baseman Alexander Mayeta which erased a 4-1 lead. Mayeta went on to hit another homer, a solo shot, in the seventh for Industriales final run against reliever Alberto Bicet.
Industriales right-hander Deinys Suarez had his 90 MPH fastball and his tough to hit slider but a walk to Mustelier and hits by Bell and Merino got Santiago on the scoreboard first in their initial at-bat.
In the fourth, Suarez was the victim of a costly error by shortstop Abdel Quintana on a grounder by Luis Navas to start the inning. After Pedro Poll slashed a hit to left moving Navas to third, Reutilio Hurtado hit a fly to deep left that drove in a run. A hit by Miaikel Castellanos and a two-run double by Hector Olivera capped the inning.
Mayetas homer in the seventh, which gave Industriales a 6-4 lead, was his seventh in the playoffs, one more than his total production during the 90-game regular season.
The game heated up in the bottom of the seventh when the home team and its fans got riled up when umpire Nelson Diaz threw Santiagos designated hitter Pedro Poll out of the game after a close call at first.
Alberto Bicet was the winning pitcher going 4.2 innings allowing 4 hits, a walk and one run, the second homer by Mayeta. Yadel Marti took the loss after 3.2 innings allowing 6 hits and 4 earned runs.
Friday is a travel day and game three of the series is set for Saturday night at the Latinoamericano Stadium in Havana. Left-hander Arleys Sanchez is expected to start for Industriales while right-hander Osmel Cintra the probable pitcher for Santiago.
Santiago has scored 61 runs in their last 4 playoff games and 27 runs on 25 hits in 2 games against Industriales. Last years league champs pitching is now forced to put the plug on the Santiago lineup or face an almost unsalvageable three game disadvantage.

Source: By Sigfrido Barrios, Granma
---
Related News
---