Santiago de Cuba , important role in Cuban Science
Submitted by: admin

05 / 14 / 2007
---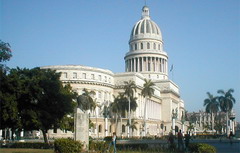 After a year of work, the most positive achievement of the scientific center of Santiago de Cuba is the significant progress it has made in the integration of the different scientific institutions of the province. Santiago's scientific complex, which is 15 years old, is considered the second most important in the country, after that of the west, located in Havana .
But what was done last year is not enough. Apart from the figures that show the qualitative and quantitative results, the scientific center needs to find a means of communicating that brings scientific activity closer to the workers, housewives, pensioners, other fields of professionals, students and artists, etc. Communication must be established in the whole sense of the word, so that these achievements, we are so proud of, can be grasped by their main beneficiary: the people.
Scientific activity also has a bearing on work organization and its efficiency, expenses and costs, production and the appropriate attention to human capital. The province has achieved magnificent results in these fields.
Science in Santiago has been in accord with the new dynamics imposed by the national and local situation: the energy revolution, food production, comprehensive management of coastal development, social studies, production and design of new drugs and medical equipment, and the fight against the disease-carrying mosquito Aedes Aegiptis .
According to Dr. José Antonio Diaz - deputy minister of the Ministry of Science, Technology and Environment (CITMA)-, science in Santiago de Cuba is moving forward. It is prepared to give more to society and to become a driving force for the economic and social development of the country.
Source: Sierra Maestra
---
Related News
---