Rigondeaux confirms winning objectives
Submitted by: admin

01 / 23 / 2007
---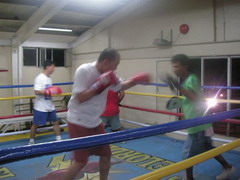 Cuban boxing star Guillermo Rigondeaux confirmed that retaining the Pan American and world crowns would be his priorities for 2007.

The predictions cannot be different, assured the best male athlete of the island in 2006, returned to the national training center in El Wajay after recovering from a slight pain that left him out of the "Playa Girón" Boxing Tournament, led till now by Havana City (24), Guantanamo (16) and Santiago de Cuba (14).

I began the physical work after the elimination of a tooth attack, which hindered me from fighting, now I am well in the weight and feel motivated, explained the 26-year-old boxer from Santiago de Cuba, two-time Olympic and world champion in the bantamweights.

Prior to a preparation session in areas of Los Laureles Motel, the also continental champ announced the aim of extending his current string of straight wins that totals 87 since 2003.

Between 1999, my last defeat, I achieved 142 wins, but this time I want to surpass that performance fairly, specified Rigondeaux, who praised the performance from several new young boxers in the current elite competition of the country.

The worlds best amateur boxer for many said that those youths and the athletes from the provincial squads train very well and this always sets higher goals for the members of the national pre-selection team.

Questioned on his chances to make up the roster for the Pan American qualifier, slated in Venezuela next February, he said he was convinced of his possibilities of getting fit for that moment, although he admitted that the trainers would take the final decision.

"I just can say that I want another good year and that implies not to lose", concluded the #1 favorite to reign in the continental event in Rio de Janeiro and the world championship in Moscow, next July and September, in that order.
Source: CubaSi
---
Related News
---