Repairs slowed on Hemingway's hideaway
Submitted by: admin

03 / 21 / 2007
---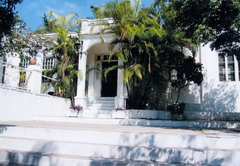 Work to restore Ernest Hemingway's Cuban hideaway probably won't be finished until the end of 2009, held up in part by efforts to build a garage to house the author's long-lost Chevy convertible, museum officials say.
Hemingway lived at Finca Vigia, or Lookout Farm, on Havana's southeastern outskirts from 1939 to 1960. He wrote "The Old Man and the Sea" and children's fables at the home, which he shared with nearly 60 cats and at least 10 dogs.
Following his suicide in 1961, Hemingway's widow turned the property over to Cuban leader Fidel Castro, and it became a museum the next year. But time and tropical elements have ravaged the eggshell-colored home and the documents inside, which include the never-published epilogue of "For Whom the Bell Tolls."
Efforts began in 2005 to repair Finca Vigia and restore its grounds along with the papers, furniture and other objects inside.
Museum director Ada Rosa Alfonso would not say Tuesday how much restoration has cost to date, or how much was needed to finish it.
"It's a process that requires dedication and time," she said.
The budget for the restoration comes from the Cuban state and "it will continue providing it," she said. The museum is "open to accepting any kind of donation or support" but she said that Washington's embargo has blocked willing American donors.
The restoration likely won't be completed for at least 2 1/2 more years, she said.
Six U.S. experts have obtained permission to travel to Cuba and aid in restoration, and Alfonso said that the last American visit came in August.
Academics from around the world plan to attend the museum's 45th anniversary celebration beginning April 1 " the date Hemingway is said to have first visited Cuba during a brief layover in 1928. Festivities wrap up July 21, the author's birthday and anniversary of the museum's 1962 opening.
Source: mLive.com
---
Related News
---