Religious freedom helps Jews in "Hotel Cuba"
Submitted by: admin

01 / 22 / 2007
---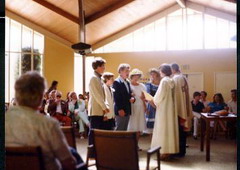 By Anthony Boadle
Salomon Mitrani sat through his wedding ceremony. After all, at 84 years old he finds it hard to stand.
By Cuban law, he has been married to his wife, Pilar, for 55 years, and they have eight grandchildren. But, in a ceremony last week, he was finally getting married under a Chuppah canopy according to Jewish custom.
It was no ordinary ceremony. Twenty other couples of all ages took their marriage vows in a ritual officiated by three visiting Argentine rabbis. The grooms smashed their wine glasses underfoot as a cantor sang age-old blessings in Hebrew.
It was the largest wedding members of Cuba's depleted Jewish community can remember and a sign of a revival of Judaism in a country where there has been no resident rabbi since an exodus of Jews fleeing President Fidel Castro's communist government in the early 1960s.
"I've always felt Jewish. I went to fight for Israel's independence in 1948," said Mitrani, a painter and sculptor whose parents, Sephardic Jews, emigrated to Cuba in 1913 from Turkey.
The mass nuptials at the restored conservative Beth Shalom synagogue, the largest of three in Havana, were preceded by 70 conversions, including whole families, dozens of young Cubans, and Mitrani's wife Pilar, 75.
"I wanted to have a Jewish family like my forefathers. The family is vital to maintain our customs and perpetuate the values of the Torah," said Alberto Behar, a computer analyst like his wife Caridad Morales, who converted for the wedding.
Cuba has a mix of Sephardic Jews, who came mainly from Turkey and the Balkans before World War One, and Ashkenazic Jews who escaped turmoil in Eastern Europe, mostly Poland and Russia.
As many as 25,000 refugees from Nazi persecution arrived from Austria, Germany, France and Belgium in the 1930s en route to the United States. Refused entry due to U.S. immigration quotas, they landed in what became known as "Hotel Cuba."
Kenneth Cohen, a rabbi who visited Cuba in January with a group of students from American University in Washington, was impressed by the commitment of young Cuban Jews.
During his visit, he noted that a group of men in their 20s had recently been circumcised. "That is a big commitment," he said.
Cohen went to isolated communities in provincial towns that needed more help from abroad. In Sancti Spiritus, a town with a distinctly Catholic name, he was told he was the second rabbi to visit in 50 years.
"Seeing these communities of only 18 people struggling to hold on, with a matron teaching little kids how to read Hebrew, almost moved me to tears," he said.
One problem with being Jewish in Cuba is coping with the local cuisine, which is based almost entirely on pork. But the community now has its own kosher butcher shop, to the relief of many.
"We try to avoid pork. When we can't, we just eat less, so it doesn't become our diet," said Behar.
Source: Reuters
---
Related News
---