Red Cross reunites families in Sancti Spiritus, Cuba
Submitted by: admin

11 / 08 / 2006
---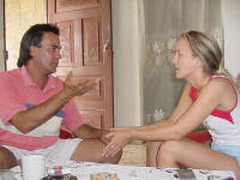 By Mary Luz Borrego
In Sancti Spiritus province, more than 60 families whose members had been separated from each other for different reasons could be reunited after the efficient work of the local Red Cross Association, particularly the Search and Found service which began here in 1996.
The purpose of this service is to inform and re-establish the communication between relatives who have been separated due to armed conflicts, political tensions or any social problem. The agency can also take care of messages when ordinary mail is not working or when someone asks them to. Most requests come from Sancti Spiritus municipality while Germany is the most searched country.
The requests are sent to Havana for further investigation and the petitioner is informed back according to the results obtained. Applications from abroad are also considered except from the United States since they cancelled the service or any exchange with the island at the beginning of 2000.
The International Red Cross and the Half Red Cross organizations were born from the humanitarian ideas of Swiss Henry Dunant, a business man who was touched by the situation of the thousands of wounded soldiers who were condemned to death because of the lack of medical assistance in the Solferino battle, in the north of Italy at the beginning of the second half of the XIX century.
In 1863, Dunant and his followers paved the way for what later on became the first nongovernmental organization in the world (NGO) integrated by more than 100 million volunteers from nearly 175 countries. It is the biggest humanitarian network of the world which also cares for cooperation projects, rescue operations and assistance to refugees or immigrants.
In Cuba, the National Red Cross Association was created in 1909 by Dr. Diego Tamayo Figueredo while Captain Jose Oscar Granados, from the Cuban province of Cienfuegos, organized it in Sancti Spiritus village in March 1st, 1942, having Dr. Mario Garcia Madrigal as president. This office had to be moved to different places due to shortage of resources, but the humanistic desires of its membership made it survived until the triumph of the revolution.
Sancti Spiritus Red Cross Association has performed many other important tasks such as public collection of goods for people after hurricanes; vaccination campaigns against typhus, polio, tetanus and measles and fighting counterrevolutionary bands in El Escambray mountains and Playa Giron.
At present moment, every municipality in the province has its own Red Cross office with an overall membership of about 820 volunteers and over 80 paid workers. The organization is under the leadership of the Ministry of Public Health.
Source: Periodico Escambray
---
Related News
---