Raul Castro presides start-up of new electricity generators
Submitted by: admin

06 / 08 / 2007
---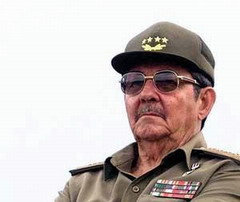 Army General Raul Castro Ruz, Second Secretary of the Communist Party of Cuba, attended on Wednesday the inauguration of two electricity generating units with a capacity of 35 megawatts each.
This additional 70 megawatts of generating capacity brings the total capacity of natural gas generating facilities to 495 megawatts; 395 megawatts of which correspond to ENERGAS, and 100 megawatts which are generated by the Termoelectrica del Este plant in Havana.
Raul Castro also presided over the signing of an agreement between the Cuban entities Union Electrica and CUPET, and the Canadian company Sherrit Utilities Inc, stakeholders of the ENERGAS S.A. joint venture company. The agreement ratifies the decision to begin Phase 8 of the Joint Venture Company ENERGAS S.A. that includes the installation of a new steam turbine of 125 megawatts generating capacity, to be located at the Boca de Jaruco Plant. This facility will complete the Combined Cycle generation to increase the efficiency of natural gas generated electricity.
Prior to the signing of the agreement, Raul Castro toured the ENERGAS Boca de Jaruco plant. This facility uses state-of-the-art technology to generate electricity using natural gas that is extracted together with oil. Previously, the natural gas was burned at the top of the oil well flares, negatively impacting the environment.
The development of this electricity generating program using natural gas is a high priority of Cubas ongoing Energy Revolution.
Raul Castro was accompanied Sherrit International Corporation President Ian Delaney; Carlos Lage Davila, secretary of the Executive Committee of the Council of Ministers; Yadira Garcia Vera, minister of the Basic Industry; Roberto Lopez Hernandez, member of the Secretariat of the Communist Party; Ivan Ordaz Curbelo , First Secretary of the Havana provincial Communist Party; Raul de la Nuez Ramirez, minister of Foreign Trade; and other officials from the Havana provincial government.
---
Related News
---