Presented the Nominated to Lucas 2006
Submitted by: admin

10 / 31 / 2006
---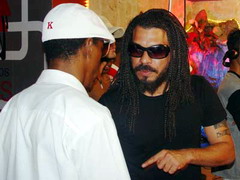 The awarding ceremony of Lucas Awards 2006 which recognize the best of Cuban video clip, will take place next November 26th and it will be dedicated to the 20th anniversary of Hermanos Saíz Association, thus was informed this Monday in the nominees presentation show that gathered journalists, artists, filmmakers, and specialized critic.
Among the main nominees to this IX edition outstand X Alfonso, Bilko Cuervo, Julio César Leal and Ismar Rodríguez, with several nominations that include Best Video of the Year, the most important and sought category.
The list for the most wanted Lucas award is completed by Gretel Echarte (Mama, of Raúl Paz), Ana Margarita Moreno and Fernando Morlans (The Chosen One, of Hypnosis) and Alfredo Ureta (Voy a darte (I will give you), of Isis).
More than a hundred Cuban videos were considered by the specialists in the pre-nomination stage and the critic coincided in highlighting the growing quality of Cuban video directors who little by little have started to putting us up, aesthetically and unnoticeably with the best of the world video clip production."
In the rap and reggaeton music video section appear the candidates Papo Récord (made by Andros Barroso), Triángulo Oscuro (Santana), Impacto (Bilko Cuervo) and Clan 537 (J.C Leal and Ismar Rodríguez); while in fusion music appear the nominated Patricio and Edesio Alejandro, Tesis de Menta (Thesis of Mint) and Hypnosis.
For the most popular video, always expected by the public, will compete Bamboleo, Eddy K, Clan 537, Buena Fe, Paulo FG and Yaser Manzano, Pedro Camacho y su clan and Paulo FG y Eminencia Clásica.
The competition has 23 categories in total -a record figure - that comprises pop, fusion, music for children, traditional music or song; as well as photography, art direction, animation, and visual effects, among other technical sections.
As it's already customary, Lucas Awards will go further than the awarding ceremony to become a party that will include concerts in several Havanian places with rock, pop, popular music groups as well as the remaining genres.
These awards and the television program of equal name, directed by Orlando Cruzata, appeared for the first time in 1997 and little by little have become the main driving forces of video clip production in Cuba.
In the previous edition, celebrated in November 2005, the musician and video director X Alfonso was the great winner after running off with the Best Video of the Year and other six awards.
---
Related News
---