Pledge to deepen relationship
Submitted by: admin

12 / 09 / 2006
---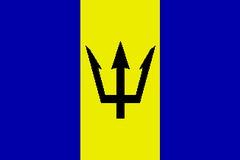 BARBADOS and Cuba are keen to deepen relations 34 years after formally establishing diplomatic ties.
Having already forged major links in education, culture, sports, health, agriculture, the environment and other areas, Permanent Secretary in the Ministry of Foreign Affairs, Teresa Marshall, expressed a desire to improve what already existed, while looking for new opportunities.
Similarly, Roberto Rivas Lopez, Director of the Latin America and Caribbean Division of the Ministry of Economic Investment of Cuba, wanted a search for new avenues for co-operation between our two countries.
The two heads of their respective delegations were speaking yesterday at the opening of the fourth meeting of the Barbados/Cuba Joint Commission at the Accra Beach Hotel, Rockley, Christ Church.
It was 34 years ago today that Barbados, Guyana, Jamaica, Trinidad and Tobago and Cuba formally established a diplomatic relationship.
Marshall said the two partners had a track record in many sectors and that officials would review the activities that we have co-operated on in the previous three rounds, to see where these can be enhanced or enlarged and to look at new activities that we might undertake together.
This is the fourth time that we will be meeting as a joint commission since we inaugurated this process in 1999 within the framework of our bilateral economic and technical co-operation agreement. Over the years both of our countries have met together and have developed an excellent programme of co-operation. A seriesof activities take place under this umbrella agreement, as well as other agreements that we have in place between Barbados and Cuba, and indeed agreements that we have in place between CARICOM and Cuba, she noted.
The Permanent Secretary said Barbados delegation was certainly looking forward to very fruitful discussions over the next two days and to the generation of a new set of activities that will further enhance our co-operation.
We believe that we can benefit a great deal from the progress Cuba has made, spectacular progress in some sectors, and we would like to believe, without being too immodest, that there are some areas of our development where we can share opportunities with Cuba, she added.
Speaking with the assistance of an interpreter Rivas said with a basic agreement on economic and technical co-operation already in place, Cuba officials hoped to continue to work closely with CARICOM through this agreement and others that we might conclude.
We do believe that there are many areas where we can further strengthen ties between our two countries. And I think that this meeting offers us a great opportunity to do this, to find new avenues for co-operation between our two countries. I think that we are at a very important stage in the development of relations between our two countries and we need to strengthen this in all areas, the head of delegation said.
He pointed out Cuba had a wide programme of international co-operation and ... don't just give what's left over but we share our resources.
Both officials also said the meeting was extra special given its final day coincided with todays CARICOM/Cuba Day planned commemoration of diplomatic relations between CARICOM and Cuba. Marshall said there would be some celebratory events to mark day.
---
Related News
---