Planetarium of advanced technology set up in Cuba
Submitted by: admin

02 / 11 / 2007
---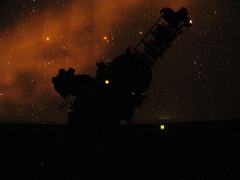 A Planetarium of advanced technology made in Japan, will be set up in the venue of old Cinema Havana, as part of Old Havana Cultural Project of Science and Technology, sponsored by City Historian Office and Ministry of Science, Technology and Environment CITMA.
With capacity for 80 people, the one called Cosmic Theater, 10 meters diameter round, will make possible to fly imagination to observe celestial constellations by means of several representations of the space, Cuban Agency News, reported.
With a much modern technology than others that are functioning in the Isle, it consists of two hemispheres, which will allow to visualize the celestial space as in the Antarctic as in China or in any other European country.
With a cost of half a million dollars, acquired by a project presented to Japan, it functions a whole audiovisual system for conference hall, explains Astrophysics Sciences Doctor Oscar Alvarez Pomares, general coordinator.
It will be a completely new center of science and technology, and in which Planetarium will play an important role in its mission of scientific spreading, so that students and population in general may get closer to the fundamental concepts exact sciences
Source: Prensa Latina
---
Related News
---