Origami: japanese art in Camagüey
Submitted by: admin

10 / 27 / 2006
---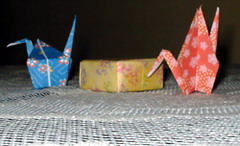 This old art, synonym of paperfolding, was brought to the city of Camagüey and has been cultivated by children and adolescents since the year 2000 in the La Vigia neighbourhood.
A group of children are taught to do these shapes on paper by a kind of Fairy Godmother whose hands, weightless and graceful like butterflies, make the most beautiful and curious of creations.
This art is wonderful not only for the people who are enthusiastic to manual art, but for the children and teenagers, because when they play Origami they concentrate in a special way, and incorporate certain skills that may result useful for their own lives.
Caridad Verónica Rodríguez, Cachita -as people affectionately call her- is the origami instructor of the workshop "Cranes for the Peace" which is held in Camgüey during this summer. .
Following a Japanese tradition that reads "by folding one thousand paper cranes, your dream will come true" the workshop is dedicated to the victims of the cruel US attacks to the cities of Hiroshima and Nakasaki.
"Weve got the real conditions this summer to go forward with this project and we count with the support and motivation of the children, who spend the whole day working"
This workshop was organized in the past, but because of adverse conditions we could not put it into practice.
"This year I dedicate Cranes for the Peace to the promoter of this beautiful project, my husband. He would be very happy with the realization of this idea, but unfortunately hes not longer among us."
Reasons to be glad
Apart from folding paper shapes, the workshop allows gaining knowledge and values such as loving peace and protecting the environment, what let them grow as better human beings.
For Dayana, one of the girls attending the workshop, the Origami "is like entering a world of paper, hands fold it and if you add a little bit of love, you can do whatever".
Nayibis prefers Origami, instead of being dancing or doing anything else, because "it helps me to be relaxed. When I dont feel in a good mood, I create coloured paper shapes and its great. I even give some of my cranes to my neighbours. .
"Our paperfoldings are reasons to be glad, because they mean peace not only for us but the world".
During the whole summer Cachita will be surrounded by multicoloured papers and their own pupils.
The incense and the Asian melodies reign in Cachitas workshop. Her students enjoy the beautiful art of Origami and the tenderness that invades the place, where they all feel in family.
Source: Radio Cadena Agramonte
---
Related News
---