Opening doors to trade with Cuba
Submitted by: admin

11 / 22 / 2006
---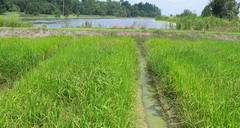 By Arnessa M. Garrett
Louisiana farmers and other producers are in a prime position to benefit from trade with Cuba, state economic leaders say, but the opportunity is also fraught with complexities.
That's why the International Center is bringing an expert to speak about the issue at a Dec. 5 luncheon meeting.
Felipe Martinez, project manager with Louisiana Economic Development, has been on several trade missions to Cuba since 2000, and hopes to give area businesses an idea of what they can expect in the Cuban market.
Martinez said some area rice producers already have begun to trade with Cuba, since the state began to make an effort two years ago to establish economic ties.
"Part of what we're trying to do is expand that interest and also the awareness of what is involved - what we can and cannot do in that market and what its ups and downs are," Martinez said.
Philippe Gustin, international trade manager for Lafayette Consolidated Government, said he realizes trade with the Communist nation is a source of political tension, but the goal is to give producers accurate information.
"We know it's very sensitive. Some feel we should not do trade with them, some feel trade is a good way to reverse the political situation. ... We're not going to debate that. We're just going to allow people to know what the U.S. government allows," he said.
Martinez said Louisiana does just under $8 million in trade with Cuba now, but that number has the potential to grow in the future. The United States has had a trade embargo against the country since the '60s. President Clinton signed a law easing the embargo in 2000 to allow for the sale of food and medicine to the island.
While rice growers are the primary Louisiana businesses that have ventured into Cuba, Martinez said there is opportunity for a wide range of trade. Martinez said any business interested in learning about the Cuba market should come to the luncheon.
"There's a market for such things as cattle, cattle vaccines, rice, cotton. Just about everything we grow here, there's a market there," Martinez said.
Rice broker David Bertrand, owner of Bertrand Rice in Elton, went on a trade mission sponsored by Louisiana Economic Development in 2005. He said though he doesn't trade with Cuba, he does business with mills that sell to the country.
"We know one day it is going to open up. Most of the old people that I learned rice farming from used to do a lot of business with Cuba," he said.
Martinez said history and proximity are two of the reasons why Louisiana producers should have an edge in the Cuban market. Before the embargo, much of the trade with Cuba left from Louisiana ports.
It takes a mere 36 hours for a boat to sail from Lake Charles or New Orleans and land in Havana harbor, he said.
But other states are eager to get in on the action as well.
"The whole Texas rice industry is hanging their future on trade with Cuba. I've had people in the industry tell me that," Bertrand said.
Rice is a staple of the Cuban diet, and currently, Cuba buys rice from countries such as China and Vietnam, Martinez said. But in his visits to the island, he has heard the people do have an appetite for Louisiana rice
"The main thing is that Cubans prefer the long grain rice to the style of rice that they purchase from China and Vietman. That's the first thing they let you know. It's better than anything they can buy elsewhere," he said.
Source: The Daily Advertiser
---
Related News
---