NG La Banda, a Cuban orchestra at its very peak
Submitted by: admin

04 / 20 / 2007
---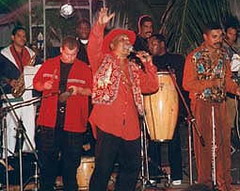 Considered as one of the Cuban greatest orchestras in the late '80s, NG La Banda directed by José Luis Cortés will turn 20 years old in 2008 by making the popular appeal and gaining the favour of the international criticism.
It has finished setups (...), complex harmonic structures and blends funk, blocks, percussion and Afro-Cuban dance music with sparkling melodic ideas. The bands metal section is actually marvellous said Peret Watrou in The New York Times after listening to its carnival themes.
Its most likely the best orchestra in the Western Hemisphere according to Ben Tavera King from San Antonio Express-News, U.S.
With it, the Island gets a blast of rhythm . It tastes both wild and refined asserted Masahiko Yu from Japan and according to the Spanish Charles Baya its one of the most prestigious Latin-Jazz ensembles in the world.
Its director is graduate of the Islands Art Schools and characterized by a virtuous formation deeply rooted in the rhythmic legacy he inherited.
Not to doubt it, hes able to the purest classics and in the opinion of his colleagues, Formell among them, his flute is capable of all possible prodigies .
NG La Banda premiered in Havana, April 4, 1988. All its anniversaries are feted at Salon Benny Moré in the Jardines de la Tropical, in Marianao neighbourhood, which is to many the dance musics temple here.
The one celebrated on occasion of its 29th anniversary was in charge of the famous Cuban orchestra Los Van Van of Juan Formell; Group Bamboleo, rap band Eddy K, Alain Daniel and rumba of Yoruba Andabo among many others.
Formell promised his music will be present in all the fetes to keep Tropical fame on the rise. The Salon shone with thousands of dancers who enjoyed at most the current hottest music on the island.
José Luis Cortés felt pretty euphoric with the bands new birthday, prevailing music, "timbero" notion (new modality of salsa music) and the fact its the basis of the contemporaneous Cuban dance music that influences rap, the latest juvenile tumbaos, montunos, choirs and chorus.
Source: CubaSi
---
Related News
---