New Chano Pozo documentary Awarded at Cubadisco 2007
Submitted by: admin

05 / 28 / 2007
---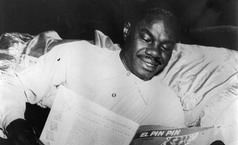 It was December 3, 1948, the eve of Santa Barbara (also known in Cuba as Shango) Day, and the legendary Chano Pozo, without giving much importance to the argument he had just had with the Puerto Rican Eusebio "El Cabito" Munoz, was heading towards the Rio Cafe in Harlem. As always, Chano went straight to the jukebox to put on Manteca, his song that was being constantly played on the radio. The unmistakable melodies of Dizzy Gillespies trumpet melded with the unequalled ring of Chanos bongo "that would elevate bebop to the height of art" and flooded the cafe. And Chano, a son of Shango (the Santeria saint of drums, power, thunder and lightening) broke out into Rumba dance. Chanos rumba, in a perfect allegory to life, would tragically end with his death when El Cabito, smoking gun in hand, stood over him as he fell dead to the floor.
«The death of Luciano Pozo Gonzalez, Chano, had all the ingredients to become the most known element of his life; nevertheless, what people most remember about him is how Chano changed music forever in Cuba and around the world, obtaining a privileged space in its history,» filmmaker Ileana Rodriguez Pelegrin told JR when speaking about her latest documentary Chano Pozo, la leyenda negra (Chano Pozo the black legend) which won a prize at Cubadisco 2007.
«People have created lots of myths surrounding this man, a prolific composer, and not only of rumba music. When Chano left to New York, he had already founded the Conjunto Azul "which included his brother Felix Chapotin", the emblematic septet of the RHC Cadena Azul radio station and the National Cabaret. Chano had been among the first dancers of the first Tropicana show; and had shared the stage with his friend Rita Montaner... that is to say, he was already famous, but maybe because he was black and part of the "ghetto atmosphere" "he had been shot twice in a fight, and one of the bullets was never taken out" he didnt have everything going for him.»
«He is a very important figure in the history of music and one who didnt get the recognition he deserved; his fame remained among musicians. But not among all of them, some remained ignorant of who he was. He wasnt like Benny More, Compay Segundo, Ignacio Pineiro, or even Rita Montaner..., all well known among Cubans. He doesnt have that sort of presence in the memory of Cuban music.»
"It must have been hard work...
"Very much so, it wasnt easy to research his history. And the thing is that Chano was more than just the musician who made the perfect combination with Dizzy Gillepsie and the guy who once and for all brought the bongo and conga into the world of jazz. He also revolutionized bebop and created cubop, which was what he and Gillepsie played. Gillepsie talked about how Manteca, Chanos masterpiece, was created by Chano dictating the melody and music that was within him. He was self-taught, and as he had grown up in Cayo Hueso, he masterfully learned how to play drums and rumba in the solares of Havana.
«Chano, a friend of Miguelito Valdes, was an excellent percussionist; but he also sang and dance. Its funny, because Gillespie used to say that Chano would sing one thing, play another and dance a completely different thing, all at the same time. It was crazy. He also recorded several songs with James Moody & His Bop Men like the acclaimed Tin Tin Deo... I discovered all these things, the deeper I dove into my research. There were so many elements, and I wanted to present the most information possible, and so the documentary ended up being 74 minutes long.
"And how did you approach making this documentary...?
"We tried to do it almost chronologically. To give it order, we looked for a structure. I started with his talent which began to emerge when he was a boy, even though he had a hectic life; his mom died and he went to a youth reformatory. And I finished the film with his death. I also wanted to show the controversial aspects of his life, such as his supposed romance with Montaner, because I learned from my teachers that this type of film had to have a contrasting element. The one I found was how he was well-known internationally while never receiving the same recognition in Cuba. For example, many people dont know that he was buried here on December 5, 1948. I also gave some musicians the chance to speak about his legacy. Our objective was to discover what Chanos true mission was and place is in the origin of Latin jazz, and what came out of his collaboration with Dizzy Gillespie.
"I am guessing that there were few resources for your research...
"I came across some materials in the National Library and in the Institute of Linguistics. I looked for publications from that period; event though I didnt find much. I only found references to his death in El Pais and Bohemia. The book on Rita Montaner mentions a little bit about some of the shows he participated in, etc. I was also helped by people who have thoroughly studied the life of Chano Pozo, such as Leonardo Padura, and Cuban musicologists who have studied his musical genius. Of course, I also interviewed his sister and Manuel Villar, his neighbor, among other people. For scheduling reasons, I wasnt able to interview Cesar Portillo de la Luz; nevertheless, he helped me with some information. The contributions from my consultant, Neris Gonzalez Bello, were essential in making this documentary.
"Some people know you only as the former head of information for the Havana entertainment listings, but not as a filmmaker...
"That is true, even though I graduated as a director from the Havana Higher Institute of Art. Before working for the entertainment listings, I worked in television. This is something like my tenth documentary. I have also made El otro Hemingway, with Gregorio Fuentes "his last interview because he passed away while we were editing", and a series on Raul Gomez García entitled La senda de la felicidad, which I directed with Cesar Gomez. I started my career at the local television station of Isla de la Juventud, where I made De olvido y esperanzas, for which I won an award.
«I also have some background as a reporter; I studied three years of Journalism before deciding to change my major. Thats why I combine my work with the written press. The thing I like doing most as a filmmaker is making documentaries because it entails both journalism and art.»
"Were you surprised with the Cubadisco award?
"Very much, and very happy and grateful, because I was chosen by a jury of music specialists who not only judged the artistic value but also the content. I dedicate this award to the technical team that worked with me, including Jose Munon, director of photography, and especially the films editor, Ernesto Barrios, who recently passed away in Bolivia; also to Tony Soto, the narrator who wasnt able to see the documentary. We had the opening at a Jazz Festival held at the Almadeo Roldan Theater. It was also shown on TV on A todo jazz, but I hope that it gets played all over the place.
Source: By Jose Luis Estrada Betancourt, Juventud Rebelde

---
Related News
---