National Television Awards presented in Cuba
Submitted by: admin

10 / 31 / 2006
---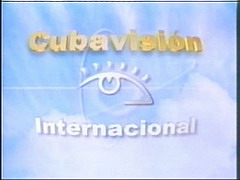 The presentation of the 2006 Cuban Television National Awards granted to 10 distinguished personalities from that sector, in a ceremony held in Havanas José Martí Memorial had a great impact on the island today.
Granma daily and local television and radio networks reflected the presentation ceremony held on the eve, with the attendance of Cuban Communist Partys Political Bureau member Esteban Lazo, and Culture Minister Abel Prieto, among other leaders.
The awards went to actresses and actors Verónica Lynn, Mary Díaz, Enrique Almirante, René de la Cruz and José Antonio Rodríguez, directors Octavio Marín, Armando Piñeiro and Juan F. Sarduy and posthumously, announcer Nela del Rosario.
While addressing the ceremony, Cuban Radio and Television Institute (ICRT) President Ernesto López said that the awardees summarized many years of consecrated artistic and humanistic work.
He highlighted, likewise, the founder status of some of them, as well as the teaching they exercised and are exercising on the new generations, besides their faithfulness to the Revolution and the dearest patriotic desires.
Regarding the broadcasting means in which the laureates have worked, López asserted that "television and radio have never been so close to the masses than today".
On the other hand, he affirmed that their broadcasting role expands with the creation of new telecenters in different provinces, the international expansion of the Cubavision channel and the forming work of the educational channels.
Framed within the ceremony, the attendees enjoyed the performance by the Embajadores trio, singer Leo Montesinos, bel canto singers Jacqueline Velázquez and Bernardo Lichalin, a dance duo from the ICRT and a choir of graduates from the Higher Institute of Art (ISA).
Source:
---
Related News
---