Mountaire farms to start exporting chicken meat to Cuba
Submitted by: admin

05 / 08 / 2007
---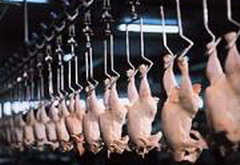 By the end of this month, Mountaire Farms will be shipping container loads of chicken to Cuba, despite U.S. trade restrictions on the country.

Delaware joins 38 other states currently exporting to Cuba, which is located just 90 miles off the coast of Florida.

"We believe that Cuba has the potential to be a long-term viable buyer for Eastern Shore chicken," said John Wise, president of Mountaire Farms. "We like the opportunity there. Were extremely grateful to the state of Delaware (and) the Department of Agriculture for setting up the trade (deal)."

Mountaire will be shipping all dark meat to Cuba, and the first container load should arrive sometime in late May.

Wise said it will take three to four days to get to Cuba and then a few more days to unload it. He added that volumes and prices will be negotiated on a weekly basis, so there will be regular trade. The state and the Delaware Department of Agriculture have been very helpful in establishing contacts in the country.

"Delaware opened the door for us," Wise said.

Michael Scuse, Delawares secretary of agriculture, led a trade mission to Cuba in March of this year to gain contacts and explore possible opportunities for the state.
"We believe this is just the first step," Scuse said. "We think there are more opportunities for us."

Delaware also will be shipping a container load of summer red wheat so that the Cubans can run the states wheat through its mills and bake with it, to see if it will work for them.

Scuse said the trade deal is great for the state, but there are various trade restrictions on the country, and have been since the 1950s after the Cuban revolution.

States are only allowed to export agricultural products and medical supplies to the country. Everything must be paid for by a third party before it is shipped.

"Its not easy doing business down there, but the Cuban officials are doing everything they can to help us out," Scuse said. "Hopefully those restrictions will be lifted one day soon."

He added that Delaware will continue to look for opportunities to export to Cuba.
---
Related News
---