Mexican PRD President in Cuba to revitalize ties
Submitted by: admin

06 / 02 / 2007
---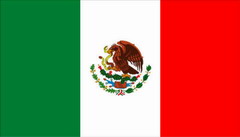 "The first foreign visit we have made is to Cuba, responding to an invitation by the Communist Party, something we greatly value," said Leonel Cota Montano, president of the Party of the Democratic Revolution (PRD).
Cota Montano has been in Cuba heading a delegation with a wide program of activities and meetings. He spoke about the importance of resuming the process of international relationships beginning with Cuba, "a country that has remained steadfast and grown stronger over the last few years and one with which the Mexican people have a long history of friendship."
The PRD president explained that his partys absence from international activity was due to intense internal activity over the last two years, especially during the last election in 2006 that he said was fraudulent.
The PRD was founded in 1988 and first lead by Cuauhteoc Cardenas. The party formed an opposition to the right, "uniting several Mexican leftwing parties with all their virtues and defects," said Cota Montano.
He said that the PRD maintains its Progressive Broad Front (FAP) with the Labor Party and the Convergence Party and is working on strengthening the image of party leader Andres Manuel Lopez Obrador as an example of resistance, supported by the National Democratic Convention.
He said that the partys future is one of struggle as they are constantly attacked by the rightwing-controlled mass media and do not have extensive financing. He added that the party is focused on peaceful mass protests.
Cota Montano also spoke about the sharp increase in unemployment caused by the North American Free Trade Agreement (NAFTA) and said that currently, 40 million Mexicans live in poverty and 20 million in abject poverty. "Not even the maquiladoras are creating their precarious work opportunities."
The PRD president said that this poverty is expressed in the half-million Mexicans who immigrate yearly to the United States, serving as a "release valve to local difficulties." He noted that NAFTA has had dire consequences in the agriculture sector due to highly subsidized US products.
Cota Montano said that the price of corn tortillas, the primary staple in Mexico, have increased by 40 percent due to monopolies and warned of a major disaster in 2008 when the corn and bean markets become completely deregulated. He added that corn and bean crops are not subsidized by the government in contrast to the US where farm products are subsidized up to 50 percent.
"This will be the ruin of millions of farmers."
Source: By Joaquín Rivery Tur, Granma
---
Related News
---