May 19: José Martí killed in combat
Submitted by: admin

05 / 19 / 2007
---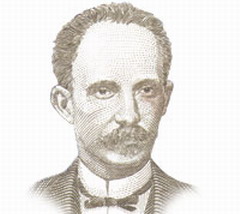 "A slightly nice moment was followed by a very painful one" wrote Independence leader Máximo Gómez in his notebook, after learning about the death of the Maestro.

The written words sum up everyday war events: you can live today and die tomorrow, and at the same time recognize the man who risked everything of himself to serve his country by organizing the independence war.

Jose Martí's organizing work in the United States was crucial for the war that kicked off February 24, 1985. His speeches aimed at achieving unity among combatants of previous wars and others who were discouraged for previous failures.
The war broke out without the participation of the main Cuban leaders. Martí and Máximo Gómez arrived on the eastern part of the island, right at a locality known as Playitas.

Martí remained with Gómez and his troop as they marched on eastern Cuban zones. In the morning of May 19, the Cuban troops faced an 800-strong Spanish force; Gómez ordered Martí to not get in action, but he disregarded the order and he was soon killed in combat. His dead body remained in the enemy's hands. His body was buried and exhumed in several occasions.

The Spanish troops took Martí's remains from his first burial in Dos Rios to another locality, known as Remanganaguas, where he was buried again only with his pants on. However, there were still doubts about his death, which led to his exhumation on May 22 and embalmment with the aim of taking the body to eastern Santiago de Cuba to clear doubts and burry him with honors.

During the trip to Santiago, the Spanish column that carried the remains of Martí was attacked on May 23rd in an unsuccessful action to recover the body, which was finally buried at the Santa Efigenia Cemetery, in Santiago de Cuba.
Due to sanitary reasons, the niches in the cemetery were destroyed in 1907 and Martí's remain were again exhumed to be preserved within a monument built for the niche at the initiative of the local government. José Martí's remains were put in a lead cage within another one made of mahogany and were returned to the niche. And on September 1947, his remains were exhumed again, this time to be provisionally preserved at another tomb until a new mausoleum was concluded.
Finally the remains of the Cuban National Hero, the Cuban Apostle, the Maestro of all Cubans, rested in piece at the Mausoleum of Santa Efigenia, in Santiago de Cuba.
---
Related News
---