Living the sporting way
Submitted by: admin

11 / 05 / 2006
---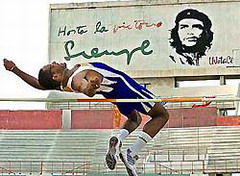 The lilting sounds of salsa are everywhere; the faint smell of Cuban cigars is in the air and old American cars - Buicks, Chevrolets, Cadillacs, Pontiacs, Dodges - ply the streets.
And in the background, children play. No, more than play. They train.
On a barren field, a group of youngsters are engrossed in football; some jog on the red-earth running track around the pitch; karate exponents go through their moves in one corner, and some young shirtless children simply kick balls. The parents walk while keeping an eye on their children.
No multi-million dollar complex here, no special facilities to train the young - just the sporting culture.
How else could a nation of 11 million - Malaysia has more than twice as much - become a production line of Olympic gold medallists and world champions?
High jumper Javier Sotomayor, boxer Felix Saxon, wrestler Hector Milian, track athlete Alberto Juan Toreno, the womens volleyball and mens baseball have all been outstanding Olympic gold medallists and world famous athletes.
Sports is everywhere. Even those who work at the corn farm get the opportunity to participate in sports activities which are lined up for them during weekends.
Cubas economic is nothing to shout about and the occasional hurricanes in this tropical land do not help. But that does not dampen the government's will to encourage its people from getting involved in physical activity - without having to spend a lot of money.
Said the head of Cubas Sports Medicine Institute, Gonzalez Carballido Luis Gustavo, on their peoples lifestyle: "There is no one methodology that is best to promote the physical activities to ensure that people are healthy.
"It may vary from one country to another. But ultimately, it is our job (the government) to provide the opportunity for all to play."
What is physical activity?
It goes beyond the high performance training programmes for elite athletes and even vigorous fitness programmes.
It is about having every member of the community engaged in activities that get the adrenalin pumping. It's about children playing in the park, adults cycling around their housing areas, grandmothers doing the tai chi and even taking brisk walks.
It has worked for Cuba.
At the 2004 Athens Olympic Games, for instance, they took nine gold medals to finish in 12th spot. Not bad at all for a small nation with a struggling economy and hamstrung by US sanctions.
Other countries have their own methods. Holland has set-up its own "Dutch Standard for Healthy Physical Activity", which requires an adult to spend at least 30 minutes each day - five days a week - on physical activity.
South Africa has a campaign to promote physical activity by involving multi-government sectors as partners.
In Malaysia though, the sporting culture is fast fading.
Development means only one thing - replacing spacious green areas with concrete jungles - and the children's sports activities are fast being taken from the playing fields and onto computer screens.
However, it is a global problem. A recent World Health Organisation (WHO) survey showed that one out of six people in the world are inactive and that 60% of the global population fail to achieve 30 minutes of physical activity daily.
With this comes obesity and chronic diseases like heart problems and diabetes.
But there is hope yet for Malaysia.
With Datuk Azalina Othman Said as Youth and Sports Minister, there has been much focus on Sports for All. In fact, under the revised National Sports Policy, it is proposed that 60% of the focus would be on Sports for All with 30% for elite sports and 10% for others.
There are also plans to secure green lungs to ensure people do not lose their playing areas. And there are plans to get more qualified people to run sports.
The ministry seem to be on the right track. But are the Malaysian people ready to follow suit?
They probably will, if they can be convinced that sports can be fun. Taking up a salsa class could be a good start.

Malaysia to host next congress
MALAYSIA have been given the honour to host the 12th edition of the biennial World Sports for All Congress in Genting Highlands in 2008.
The Olympic Council of Malaysia (OCM)s Sports for All chairman Datuk Roy Rajasinggam and the OCMs secretary Datuk Sieh Kok Chi were present during the 11th edition of the congress in Havana here.
"Kok Chi and I came here as observers. The conference was insightful. We have seen how it is run here. It will help us to get down to work on our preparations for the next conference," said Roy.
Source: The Star on Line
---
Related News
---